"We give our students great service and we graduate them. But in recruiting, the competition is brutal. Chief Outsiders helped move us towards better recruiting and the result is evident every month."
Dr. Richard Oliver, Founder and CEO, American Sentinel University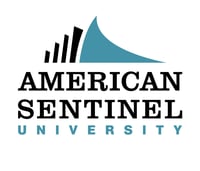 American Sentinel University delivers accredited online programs in high-demand healthcare fields. Seeking to increase enrollment and revenues, Dr. Richard Oliver, Founder and CEO, engaged Chief Outsiders CMO, Pam Cabalka. Drawing on her deep industry expertise and network of senior marketing talent, Cabalka researched and prepared comprehensive marketing and organizational recommendations to strengthen the University's branding, digital marketing and recruiting. Implementing the changes with increased confidence and speed, Oliver now sees more effective marketing and recruiting from his team.
Background
High Student Satisfaction
American Sentinel University offers online healthcare degree programs for working professionals. The University provides high-quality, innovative degree and certificate programs that enable students to enhance their professional and civic lives.
"We put students first in everything we do," stated Dr. Richard Oliver, Founder and CEO. "We've had a consistent 98% satisfaction rate from our students and an 88% graduation rate for the Bachelor of Science in Nursing degree."
Technology Leadership
The university also seeks to be recognized as a world leader for its innovative use of technology. Its award-winning simulation, Sentinel CityÒ, helps students in its nursing programs. It's digital student portal provides every student a personalized dashboard and one-click access to all university services and programs.
"We've been a leader in technology use in the classroom and in student services," says Oliver. "However, it's a challenge communicating all that to potential students."
Help with Digital Marketing
As the competition for online students increased, revenues reached a plateau and Oliver looked for new ways to boost enrollment. Seeing opportunities in digital marketing, he sought specialists in that area.
"We were changing out personnel and investing in technology, and we needed some experience to chart a new path," he related.
The CEO of one company he spoke to suggested that he talk to Chief Outsiders. "I contacted them on that recommendation," explained Oliver. "Over a couple of weeks, we sorted through all the consultants available and selected Pam Cabalka."
Expertise to Match the Need
Oliver had looked at a couple of small consulting firms but felt that Chief Outsiders had a rich network of talented people to choose from. "We picked somebody that had marketing, education and healthcare experience—right in line with what we were seeking."
Cabalka's professional experience includes technology, online learning and healthcare marketing. "I worked with the healthcare initiatives within Capella University as well as other healthcare and higher education institutions," she related. "So, it really was a nice fit."
Growth Strategy
Easy and Seamless
Cabalka soon joined the University staff to help as it transitioned from the internal production of marketing activities to external. For three months, she worked closely with and advised the senior staff.
"It was very easy, very seamless," related Oliver. "She worked very well with the staff and had great credibility, because she'd been there/done that, particularly in our industry."
To understand the organization, she interviewed the entire senior management team and others, uncovering several areas that needed attention. "We looked at the website," she related. "We talked about lead conversion, budgeting, goal setting and related issues."
Digital Marketing Analysis
Accessing Chief Outsiders' deep network of consultants, Cabalka brought in Sean Klunder, a digital marketing expert, to perform a digital competitive analytics evaluation. "The evaluation revealed a number of areas where they needed to improve," related Cabalka.
"We knew we were having trouble with our website as an information transaction," added Oliver. "She highlighted that it was indeed something we needed to focus on."
Market and Organization Insight
Cabalka's discovery efforts also uncovered the following:
With a high amount of direct traffic to websites, brand recognition and brand positioning is crucial to success in this market.
Social channels represented a significant opportunity to widen brand reach.
Admissions processes could be more proactive. Admissions required specialized additional skill-sets and processes.
As often happens, Cabalka found a disconnect between sales and marketing. Lead conversion reporting proved to be inaccurate. And, they lacked an up-to-date CRM to tell them where leads were coming from and how to attribute them.
"Pam's insight confirmed that we were moving in the right direction and identified where we needed to put more effort," remarked Oliver. "It was the value of having outside eyes on the inside of the organization."
Marketing Strategy Recommendations
Cabalka prepared a comprehensive set of recommendations covering everything from corporate goals and leadership team coaching to general sales and marketing strategy, including specific tactics to increase recruiting success.
Refine the university's clearly defined key differentiated position in the online, degree program space.
Build brand recognition and differentiation around high retention, high graduation rates, jobs and career advancement.
Add digital processes as a top-level differentiator.
Build a new website and revamp digital advertising to increase leads generated.
Review and revise admissions process and metrics using best practices and a new CRM to improve conversions.
Increasing Traffic and Conversions
Cabalka made several recommendations on how to bring traffic to the website, get those individuals to inquire and then increase the conversion rate. She also identified ways to better position the university competitively.
"That's where the digital analytics came in," she explained. "We found out that they could do more to match a couple of their key competitors."
Website Recommendations
Create a sales path aligned to the student research process.
Incorporate video to tell the brand story.
Develop content to elevate organic search results.
Some of the adjustments were as simple as changing key words to increase their SEO rate and making it easy to apply from anywhere within the site. "For example, adding an online chat," reported Cabalka.
More advanced changes included an enrollment model that used predictive analytics. She also recommended that they expand referral programs, adjust display advertising and revise their Facebook strategy.
Growth Results
Improved Marketing and Recruiting
Oliver immediately saw the organizational benefits of working with Cabalka. "It gave us the confidence to do what we were not sure of and to put the emphasis in in the right place," he reported. "We are already seeing progress in the results and I think that we'll continue to see benefits."
Admissions is starting to see an increase in the conversion of leads to enrollments. "They had to get positioned to be able to do that," related Cabalka. "We suggested a reorganization and they hired a new VP of Admissions."
The new website recently went live. "We're quite pleased with what's there," stated Oliver. "I think we are well on our way with a new website, new marketing process, technology and reorganizing staff."
A Great Fit
Oliver unreservedly recommends Cabalka and Chief Outsiders to organizations with similar needs. "I've never done anything like it before, but I am well satisfied," he stated. "The biggest value is that they have an array of professionals to choose from."
"Our selection process was greatly enhanced by the fact that we were able to find somebody who fit our time schedule and our need for expertise in the functional areas, with industry experience in the areas of most concern to us."
Increased CEO Confidence
"CEOs don't have all the answers, particularly in an area like digital marketing where the world is changing very quickly," concluded Oliver. "So, working with Pam helped me make decisions with confidence."
"The bottom line was having the confidence to go ahead and do what we suspected we needed to do, but were unsure of, and that accelerated the decision making and the results."