Last week was a Texas whirlwind. I met with 10 CEOs in 4 separate settings. The topics of these meetings were nearly the same – What should I be doing differently in 2014 to improve business performance?
One of these meetings was a roundtable, and I asked the CEOs what they'd like to get out of the hour. Their response? "Tell us the latest magic marketing trick that will bring us more customers." Ok. Let's start there.
Need a 2014 Marketing Silver Bullet?
As much as I like to say, "There are no silver bullets," I believe that for a given company there actually may be one or two. There are some significant new avenues through which to execute marketing outreach and new methods of managing marketing operations that most business-to-business organizations have not considered or implemented. We're finding that these approaches are particularly invisible to companies that have marketing execution resources in house, but the task of driving marketing strategy falls entirely on the CEO.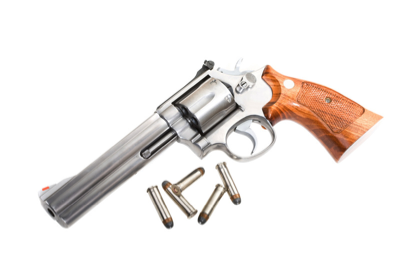 The new avenues I'm thinking of are not surprisingly in the digital space. And the new methods, which are now affordable for mid-market companies are marketing automation solutions. Note that it takes thoughtful preparation and readiness for these awesome new initiatives to deliver. Finding and loading the gun is only part of the process. Where do you shoot?
A Loaded Question
Seems like a simple enough question to answer, "Where do you shoot?" You aim and fire at your target. But savvy CEOs recognize they're not as informed as they'd like to be about subtle market and customer shifts, let alone their competitors' activities, or even how well their employees – especially their sales teams – are aligned. So getting the gun to shoot straight may require a tune-up. You'll need answers to insightful questions. You'll want to be sure your competitive positioning, the supporting messaging and value propositions that give customers a compelling reason to buy, are all in order – before you load the gun and pull the trigger.
Some companies get to these activities annually. Some, only when they're overhauling their mission. Others (we'll call them Market-Oriented) build the discipline into their DNA to do this rigorously and continuously. The point is, to maximize the impact of any expenditure in promotional activity, these elements must be current to efficiently drive the effectiveness of all of your marketing.
Bullet #1 – Promotional Targeting in Social Communities (hint: it's not just about engaging with your customers – it's about the most powerful new targeting mechanism, ever!)
We've long been telling our B2B clients that social media to-date is really an act of hygiene. You need to cover your bases and play, or else your brand will not be represented properly, and you look dated.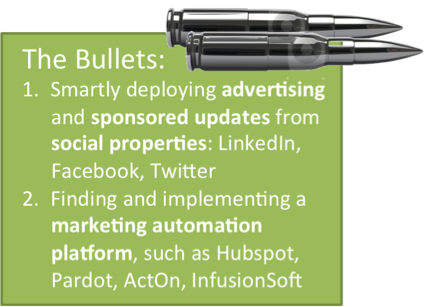 Beyond the hygiene, what most companies have yet to figure out is the power of using the main social communities (LinkedIn, Facebook, Twitter) as a vehicle to buy and deliver highly targeted and measurable messages and offers. I'm most excited about sponsored updates on LinkedIn. Not only can you target individuals with incredible precision, but reaching affinity groups is fantastic. At Chief Outsiders, we'd recently completed some highly noteworthy work with the Dallas Morning News. And we used sponsored updates to reach hundreds of other local newspapers via targeting "groups" with our case study and an offer. Try it. Let me know how it works for you.
Bullet #2 – Marketing Automation and CRM Integration (note: this is not new for some companies with mature marketing processes, but for many mid-sized companies it's an opportunity!)
The sky is the limit with marketing automation. It's easy to get overwhelmed by the potential, but it's simple to recognize the immediate opportunities of automating follow-up processes and gaining huge new insights into your prospects' behavior on your website. One of the big surprises we're seeing is how much prospects continue to visit websites and digest content even while in the middle of the sales funnel. Content was once thought of as the critical element to generate interest. We're fast becoming to believe it's the critical element to close sales! And a marketing automation platform (Hubspot Pardot, ActOn, InfusionSoft and others appropriate to the mid-market) would be a fabulous addition to your website.
Magnum Force –> Foundation for Growth™ Workshop Offer

Now that we've dug into the two cool bullets to help with your 2014 success, I'm compelled to remind you once again of the importance of getting "things" right up front. If you'd like to kick-start this process - loading the gun, pointing it, or pulling the trigger - we're here to help. Be sure to check out our Foundation for Growth™ offer. It's an awesome way to get some outside perspective on your situation. 2014 is going to be a pivotal year. Let's make sure we're ready!