6 Actions CEOs Should Take to Win in 2014.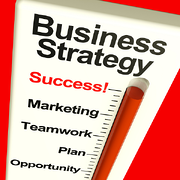 I read with interest the recent HBR blog article How CMOs Can Get CFOs on Their Side with great interest. The authors contend that "marketing is in the midst of an ROI revolution," something that I whole-heartedly agree with. The precision with which marketing activities can now be measured is unprecedented, which has several impacts on our businesses.If you're not measuring it, your competitor is. Marketing analytics platforms allow you to monitor both the effectiveness of your social media activities and your competitors. Do you understand more about your competitor than they do, or is the opposite true? If you are getting out messaged, is it long before you're getting outsold?
1. Run, don't walk, and analyze your website and social media activities using a tool from HubSpot, SEMRush, or one of the many other evaluation tools on the market.
Market share and sales are outcomes, not predictors.
If you're marketing planning for 2014 focused on improving revenue or margin (which I hope it did), these are great outcomes. To achieve these goals, do you understand what your marketing cycle looks like?
2. Build a quick process flow map – how many visitors convert to leads convert to prospects convert to orders? What is your average order size? With this quick math you should have a good feel whether you'll hit your 2014 targets.
3. Set goals for marketing performance in 2014. Once you understand the required prospect count, build a scorecard for monthly leads and conversions rates, supported by an action plan to improve both. Utilize competitive metrics to understand if you're winning. Some great questions to ask your executive team are contained in the Identifying Strategic Growth Opportunities discussion guide.
Leverage your marketing spend.
Marketers are used to spending, not buying. There are many tactics to improve the effectiveness of your spend, including comparing costs for key word searches on various platforms, leveraging chat boards and groups on trade association boards and LinkedIn, developing your presence as a speaker against your target market and blogging.
4. Challenge your marketing team to improve effectiveness by lowering the cost/qualified lead by 20%
Develop an analytics-based approach to marketing.
Christine Moorman, in Forbes Using Marketing Analytics, highlights that two-thirds of firms were not using analytics to make marketing decisions. Her hypothesis is that managers "don't want to know the answers marketing analytics provide".As marketers, we need to understand what data is available, how to make it information, and how to make decisions using it.
5. Challenge your marketing leader to explain, with metrics, the rational for their spend recommendations for 2014. Today!
6. Review your NPS score, and ask how your team is using the available communications tools to identify and fix issues.
It's an evolutionary time to be a marketer! Those that embrace the new reality will win. Are you challenging your marketing team enough to evolve – rapidly?