We're just about wrapped up with our 2011 national CEO survey of small and mid-sized businesses. Not surprisingly, many smaller companies report (actually half of those surveyed) that they don't have a separate marketing and sales leader, that the sales executive is leading marketing. While our full presentation of our findings will be released soon, it's worth jumping right into this core finding and to begin to flesh out the implications.
Marketing is Missing at the Table
When companies combine their sales and marketing functions, what they are doing is relegating their marketing function to that of sales support, most typically lead generation plus web support, collateral and events. CEOs in these companies may be missing what many graduate business schools refer to as "Big M" marketing, that is, the strategic part of the marketing discipline. Or as Chief Outisders might put it, when marketing becomes a set of tactics, CEOs and their businesses are subject to the inherent risks of unnecessary chance.
What is "Big M" or Strategic Marketing?
Young companies are typically driven by the vision of the CEO or founder who, by tapping their personal insights, passions and execution skills, lead their company forward into viability and sometimes success. Larger, more established companies learn that as they scale and the business becomes more complicated – in the markets they serve, the products and services they deliver, the competitors they face, the sales, distribution and pricing strategies they invent, and so forth – they require a more rigorous approach to defining and executing their business and market strategies.
Enter the role of the CMO – Chief Marketing Officer. The CMO has a challenging job. They are tasked to help determine which direction a company should grow and how to get there. They bring the external market view of customers and competitors to the management team assuring the company and its offerings stay aligned around deliberately selected markets and customers. They are responsible for keeping their company competitive – not only in the offerings, but in pricing, and in their distribution channels, and opportunities for alliances and affiliates. More familiar is marketing's role in crystallizing the value propositions – for the offerings as well as the company as a whole – and keeping everyone in the company informed and aligned around key message and strategic themes. CMOs have a role in every other executive's domain, which makes things complicated and organizationally challenging, but very powerful when it works. So while "small m" marketing is important, that is to execute marketing programs with precision and accountability, "Big M" marketing provides the strategic assurance that the entire company is aligned and executing on the same vectors.
3 Steps to Address the SMB Challenge
Another key and encouraging insight from our CEO study is that small and mid-sized business leaders are considerably more concerned about the future (73% are most concerned with defining and guiding future growth) than they are immediate operational results. Here are a few specific actions you can take to step into the future with greater assurance: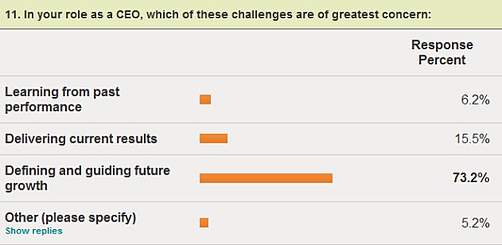 1) Vision Check-up. For many companies, the past couple of years have required an "all hands on deck" approach. It's taken all of your company's attention just to keep the wheels on during the economic slowdown and beginnings of recovery. Now may be the right time to revisit your longer term vision and goals. Refine if necessary, but affirm, document and lead your whole company to rally around your mission, once again.
2) Market Intimacy. Assess your current understanding of your core customers. What is this based on? Where is the information coming from? How rigorous is your understanding? Is it largely operational (e.g., a customer satisfaction index) or is customer intimacy informing your decisions for the future? If you're uncomfortable, it's probably time for gather some fresh perspectives from your markets.
3) Integration. Finally, how does your firm address the 4 "P's" of Marketing? Are the "P's" spread across your organization, not rolling up into one point of integration other than yourself? Does engineering own the Product? Finance own Pricing? Sales own Placement? And your marketing director own Promotion? At what point in your growth or understanding of new opportunities will it make sense to integrate these areas into a new C-level executive?
As small and mid-sized businesses move beyond the focus of surviving the economy and forward into the future, many will turn to "Big M" marketing thinking to assure their success. CEOs will do well to invest in assuring that their vision, customer intimacy and integration capabilities are ready to grow. What are you doing this quarter to drive growth?