Gary's Wine & Marketplace Sure Is
I recently shopped at Gary's Wine & Marketplace in Wayne, NJ for a small gathering I was hosting for friends at my home. I wanted to do a fun, casual, "blind" wine tasting party, but knew little about wines.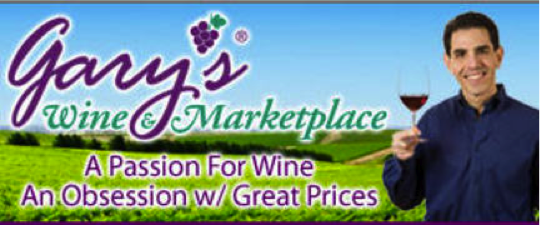 Upon entering the store, a personable store employee saw I was struggling with my selection and offered to help. I explained my plans and he spent the next hour educating me about the wines and helping me select a flight of whites and reds. His expert guidance on wines helped bring the theme to life - three bottles of each variety from three different countries and a low, medium and high price point. Each wine had a truly, unique story. He then escorted me another part of the store, which helped me select an array of incredibly delicious cheeses to complement the wines.
As I was checking out, I noticed a photo of the store's owner and realized the person who helped me was in fact "Gary." Gary Fisch is the CEO and company founder who started the retail chain in 1987 as a single store operation in Madison, NJ. He has since grown it to be one of the largest fine wine businesses in the New York Metropolitan area with 3 stores in northern New Jersey and sales of nearly $50 million.
Needless to say the blind wine tasting party was a huge hit, and I still rave about the my experience at Gary's Wine & Marketplace.
So why does Gary care so much about his customer's satisfaction? He understands the strategic importance of the customer experience and its direct impact on word of mouth advertising.
Simply put: A highly satisfied customer is a loyal customer. And a loyal customer can be your best brand advocate. Brand advocates evangelize your brand via "word of mouth" advertising to friends, relatives, co-workers, Twitter followers, Facebook friends, etc. for free. Research shows recommendations from friends, family, and colleagues heavily influence buy decisions. Not a bad ROI for pleasing the folks who purchase your product.
So What Can We Learn from Gary's?
And how can you incorporate this insight into your firm's strategic marketing plans?
1. Understand your customer's expectations – As a business, you need to be in touch with your customer's expectation of your products and services. When I joined Marcal Manufacturing in 2008 as the SVP of Marketing, I was new to the paper business so it was important to get an in-depth understanding of how the company's product was made, how our product differed from the competition and what consumers wanted / expected from us. It's clear Gary 's understands what his customer's want and how to differentiate himself from the competition. His success speaks volumes about his ability to stay connected to his customers.
2. Gather feedback from your customer – There are several ways to do this. If you have customer / consumer complaints, that's a good place to start. You can also hire a firm that specializes in customer surveys or if you have a limited budget, you can develop and field your own questionnaire with a low cost, easy to use on-line tool like SurveyMonkey. If you take this route, it is important to know what to ask and how to ask it. At Marcal, I was fortunate as we had a consumer affairs process in place that captured all of our customer interactions (phone, on-line conversations, postal mail and email) each month. And given my experience at Gary's, I am sure he is very much on top of gathering feedback from his customers.
3. Analyze customer feedback regularly and establish an action plan – Your primary focus should be on how you can improve the customer experience, especially your most loyal customers. At Marcal we conducted quarterly meetings with the senior members of Manufacturing, Sales, and Marketing to review consumer complaints. Specific complaints were then assigned to individuals who assumed responsibility for resolving the issue. Manufacturing concentrated on product quality concerns, while Marketing focused on improving the customer experience via new products (softer and stronger tissue products) and consumer engagement. I am not privy to Gary's process for handling complaints but judging from my experience, it's safe to say he's got it covered.
4. Develop an on-going dialogue with your customer - In addition to monitoring complaints, it is important to foster an on-going dialogue with your customers to keep your brand top of mind. Why? Share of mind leads to brand purchases. So connect with your customers via a monthly / quarterly e-newsletter as well as social media (i.e. Facebook, Twitter). At Marcal, we used all three methods to connect with our consumers. We engaged them with contests, green tips, updates on new products, coupons, and offers for merchandise. As for Gary's they have done it right. I have a frequent shopper card, receive their e-newsletter, liked them on Facebook and am following them on Twitter. I have also checked out their on-line store and YouTube wine tasting videos.
So regardless if you are a retailer or small to mid-sized business, paying attention to the customer experience is key. Converting your customer to be a passionate brand advocate is priceless.
Gary's knows how to engage his customers and transform them into brand advocates. And I am certainly one of them.
What are you doing to delight your customers and turn them into your brand advocate?
For more information about Gary's Wine & Marketplace go to their website. Also check out New Jersey Monthly article naming Gary Fisch as one of the "101 Most Influential People in the Garden State" and Beverage Dynamic's article naming his firm as 2012 "Retailer of the Year".