Jim Collins and Morten Hansen's "Great By Choice" is a favorite of Chief Outsiders. In fact, it was our reading selection for this quarter and our Tribe continues to discuss how to leverage its models.
Where Will Growth Come From?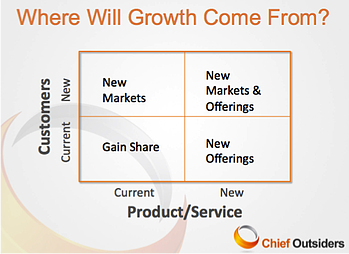 This week, in a presentation to a group of Vistage CEOs in Houston, our founder Art Saxby presented this familiar 2x2 matrix often credited to Boston Consulting Group (BCG). While the matrix was not part of "Great By Choice," it's useful when considering how to become a Collins 10X company, because every company has to determine where growth is going to come from:
From our current customers? (by taking share and or riding a growing market wave)
Entering new markets (segments or geography)
Launching new products or services
Combining the challenges from b) and c) by bringing new products to new markets
Art made the point to these CEOs that the "bottom left box" is where many businesses – often family owned-and-run businesses – get comfortable. These companies may have a good offering, a solid customer base, and continuously deliver value and service which allows them to have a viable, even growing concern.
Recognizing and Reducing Risk
Art also gained agreement from the Vistage group that more significant growth lies in the other quadrants, but that these other approaches present additional risks for a business. Relating this to "Jim Collins speak" – how can a company benefit from the "genius of the AND" by reaching for higher growth opportunities AND an acceptable risk profile? Perhaps the answer lies in how well the business is equipped to identify and capitalize on market opportunities.
The Value of Market-Orientation
As a recent University of Texas study discovered, some companies are wired to be more market-oriented than others. It starts with the background of their leadership but includes how the organization approaches and exhibits strengths in market-related disciplines. This is great news. Because companies that are not naturally market-oriented can still become better at growth – think of 3 of the 4 quadrants above where the big growth occurs – by developing market-driven capabilities in their organizations.
Different Challenges But Common Orientation
Let's consider the top left quadrant: Growing by being successful in New Markets. What skills might we need to capture such an opportunity? Clearly, it's about fleshing out how a capability we currently have will be relevant in a currently untapped market or segment. The simplest example would be a directly adjacent market. Say you're a specialist in dog food. A pretty straightforward transition might be to deliver a cat food brand. Perhaps 90% same ingredients, and might not need to develop new distribution channels. However, making the leap to a feed for farm animals might extend the challenge significantly. A company in either case is going to need to develop these market-development capabilities either in-house, or rent the expertise through consultants to gain insights clear enough to drive informed decisions and implement the plan.
The operational considerations could be considerable when entering any new quadrant: New production lines, new channels of distribution, new messages and equipping sales forces, new promotional activities and so forth. No wonder most companies seek growth from where they are (taking share) and make incremental improvements to products and product lines.
Harvard Business Review - Answer: "Supertemps"
The good news is, according to the Harvard Business Review, there's an entire virtual executive workforce available to CEOs looking to bolster their teams for growth initiatives. Read this summary of the report "The Rise of the Supertemp" and consider what this means to you.
Choices?
Yep. As business leaders we face them constantly. Our choices for growth seem simple when considering the above matrix. But as we know, leaving our "comfort quadrant" (bottom left) is big deal. Personally, I appreciate books like "Great By Choice" that do a great job of preparing us operationally to attack. With the right leadership and executive resources, we can move confidently into high growth opportunities.