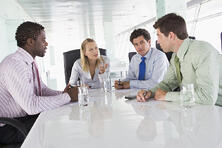 Guest Blog by Carlos Nouche
As senior executives, we all understand having to make decisions based on the value or impact to the organization. We can't have it all, so we prioritize based a return on investment mindset. Do our sales teams understand the same meaning of value and how it affects the organization's ability to sell and position ahead of the competition?
Every person and every company has different measurements and thresholds for how value is measured and what is relevant. Does your sales team understand value from the perspective of your prospects? Is your team able to uncover that value and develop a connection back to your product/service/solution?
In general, value is defined as the relative worth, impact, merit, or importance the customer achieves by addressing a business issue. In commerce, it is the perceived impact or worth of the purchase. People buy products, services and solutions that add real value or benefit to them. This value can be categorized as either business value or personal value.
How can your sales and marketing organization uncover value and understand the customer's perspective of it? Following are a few strategies your sales team can use to determine your prospective customer's view of value:
Ask your sales team to dig deep into each prospect company's challenges and ask questions about how these problems/challenges are impacting the prospect today. (i.e. currently you can't do X, how much is that costing the company? what is the impact to the organization?, etc.) Your sales team should break it down into resources — dollars, people, time. The better your sales team defines the challenges/problems that are impacting your prospective client today, the easier it is to turn that into value for your client. Your sales team must be able to uncover incremental value that can only be attributed to your products or services by providing the solution to these problems.
If the prospect company is public, ask your sales team to listen to the prospect's most recent analyst call, especially the analyst questions. These questions will define key financial metrics and point out trouble areas. If the company is private, your sales team may be able to ask a contact at the prospect company about the financial metrics their company uses to define success. Your sales team can use this financial data to help quantify the potential impact of your product/service/solution. Another option, if the prospect company is not public, is to research its public company competitors and uncover the challenges and metrics impacting that market segment.
Ask your sales team to broaden their thinking about value beyond cost reduction. What about additional revenue? Productivity gains? Increased capacity?
Your sales team should do the math — ROI spreadsheets are great but no one really buys because of a spreadsheet. Your sales team should do some simple math to help quantify the value. For example, your sales team should ask the prospect questions like:

How long does it take you to do X task?

How many do you do a week, month, year?

If we automated that, would that give you Y impact?
The value to your prospective client is articulated in their business terms. These terms repeat from client to client in a market segment. Remind your sales management and sales representatives to ask questions that provide them with a core understanding of the client's business metrics. This will help your sales team(s) better qualify each opportunity and close more business faster! Additionally, marketing departments are in great need of the data, as it affects positioning and future direction. The best organizations provide a feedback loop between sales and marketing to drive effectiveness and respond quickly to market changes.
- Carlos Nouche is a Vice President at Visualize Inc. Contact Carlos at carlos@visualize.com or via linkedIN at cnouche.