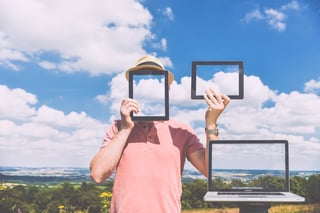 What's happening to your Marketing Career? Four Roles Forever Changed By Today's Customer Journey
If technology can be praised for its role in accelerating the sales funnel, it can also be blamed for the collateral damage it's left behind in the corporate boardroom. Walls are being torn down, silos are being flipped, and the people surveying the changed landscape are discovering that their world has been changed forever.
Marketing's new accountability
Indeed, today's funnel has picked up, and shifted, as have several key roles in the marketing career and the commercial selling paradigm. Suddenly, the marketing department is responsible for ROI; the sales team is engaging in more cuddling than commerce; the customer service team is dodging the reputational bullets; and the PR group is shoveling content by the metric ton into the social media machine.
The way we find, coddle, incubate, love and sell to consumers will never be the same. Marketing is the new sales, orange is the new black and the consumer is the new boss. It's why spending on marketing technology – led by digital consumer outreach -- will catch up to, and eclipse, spending by the IT department in 2017, according to Gartner Research.
It's also why the blurred lines between these functional units have threatened the delicate balance of the consumer's trust – and necessitated a redefining of these key roles, according to digital marketing expert Troy Ireland. It's why the Marketing Director job description has to change.
As we look at this shift in greater detail, here's where the trends are taking us:
Marketing
Today's marketing team has been asked to shoulder an increasing share of the accountability for sales results – in fact, 73 percent of corporate marketers reported having a quota for marketing-sourced lead generation, as noted in the 2015 Demand Gen Report Benchmark Study. A lot of marketing teams are seen being held accountable for conversion of leads, cost per acquisition, cost per conversion -- all kinds of metrics that are immediately related to financial performance and sales ROI.
Sales
This trend has placed sales teams in the hot seat for ensuring a positive customer experience. Whether a consumer is enjoying a trial period of a product, or whether they have already subscribed or consumed, the sales team is being asked to nurture the customer through their experience in the hope that they can be upsold. Such tasks used to be the exclusive domain of customer service, but today's savvy consumer is seeking more than just an order-taker with whom to interact.
As a result, the prospect has become the "commander-in-chief" of the sales process. A recent IDC study found that in B2B purchase decisions, 93 percent of prospects have educated themselves on your offerings before they actually knock on your door. This means that a detail-oriented sales rep needs to understand every nuance of the offering – or risk becoming a barrier to sales growth.
A great mantel for today's seat-shifted sales rep to aspire is as trusted advisor – a guide through the customer journey. To foster that trust, salespeople should make an effort to understand the prospect's unique needs, and to demonstrate this enhanced knowledge through a demo or some other form of education.
Customer Service
Of course, the first line of contact for many consumers is customer service – whose role as traffic cop has been supplemented by a responsibility to protect the reputation of the company. A question-bearing consumer is holding the phone in one hand, while tapping out notes on their customer service experience, in real time, to their social media universe (just ask Comcast what happens when such interactions go awry).
Ensuring a positive experience – sending away a caller with a solid path to understanding or resolution – makes customer service Ground Zero for the establishment not just of the company's reputation, but the character of brand. In a sense, your customer service rep has just been promoted to "chief brand officer" – and is a linchpin that can make or break your company's reputation. (We know the buyer's journey does not end with the sale!)
Public Relations
Suddenly, the content and thought leadership skills of the PR practitioner have earned a premium at most companies – with their wordsmithing abilities ideally suited for today's digital marketing explosion. These new foot soldiers on the marketing front lines are asked to connect the company to all types of consumer experiences and moments, across a variety of social media sites.
No longer is the ability to write a press release -- or to speed-dial the Wall Street Journal reporter -- that looms largest on a PR pro's resume. It's much more essential that they use their communications powers to motivate people into engagement with your brand and company.
Influencer marketing is often the term you will hear used to describe this new form of "public relations." It's about getting people to care about your brand, share about you brand, and interact with your brand.
Regardless of their positioning around the table, one thing remains true today, as it has in the past – a solid go-to-market plan, and a good cross-departmental synergy between these units, is the best way to catalyze your personnel in the competition for mindshare and sales. A coordinated effort is what it takes today to drive new interest to your company, and to ensure that today's consumer is acknowledged – and rewarded – for engaging with you.
Who is responsible for the different aspects of the customer journey at your company? What is sales and marketing today? There is more to it then just the differences between marketing and sales and it will impact many marketing careers.


Author - Stijn Hendrikse, CMO at Chief Outsiders
As a Marketing Executive and Consultant, Stijn is keenly focused on B2B technology companies. He brings unique value in the transformation to digital- and inbound marketing, grounded in traditional marketing necessities like customer insights and data driven execution.