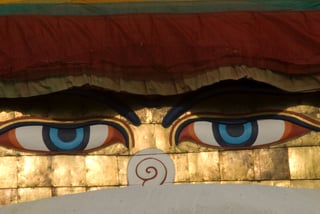 Once you've met the most important board in the world, it's impossible to look at business issues the same ever again. Sorry you missed the meeting, so I'll fill you in.
A while back I spent 10 days trekking in remote eastern Nepal with the dZi Foundation, a non-profit that works in partnership with remote communities in Nepal to create lasting improvements in their quality of life. These improvements include basic infrastructure like schools, toilets, drinking water systems and bridges, as well as numerous agricultural initiatives.
The key to the success of the dZi Foundation is their model for self-sustainable progress. Instead of the normal non-profit model whereby dZi would determine what each community needs, the dZi partnership model dictates that the communities themselves determine what they desire to accomplish in priority order to improve their quality of life. dZi provides funding, engineering and skills training while the community provides their own labor and some additional funds. Together they set up a highly transparent and visible system to track both work progress and the funds spent. Communities learn new skills and the projects become self-sustainable.
Our trek took us to the tiny remote village of Sadhi in a VDC (Village Development Committee) called Gudel, located in the Solukhumbu district just south of the Himalayas. This village was so remote that it felt like it was sitting at the end of the world. The people are subsistence farmers, and most are lucky if they can grow enough food to provide for their families for all twelve months. One thing they strongly believe in is sending their kids to school so they can learn how to build a more prosperous life. In many cases the closest school is literally hours away by foot. This village was fortunate because they had their own little school, but it was crumbling and unsafe. The dZi Foundation held a PTA meeting (Parent Teacher Association, just like we have in the west) with village parents in a small stone, wood and thatch community building to discuss a variety of school-related issues.
The meeting covered a range of topics including school management, student attendance, teacher sourcing, building a new school, how the building would be constructed, etc. Then the discussion began about funding the school. The dZi meeting leader made it clear that in order to build the school it would require villager's labor and some financial investment as well by each villager. At this point a quiet Nepali man stood up and slowly walked out of the hut. The rest of the parents started digging through their pockets and coming up with whatever Nepali rupees they could afford to donate to the school building. The wealthiest man in the room held up about two thousand rupees, or about twenty US dollars, equal to about a month's worth of work if he were to sell his crop instead of consume it. Others followed suit with smaller donations.
About ten minutes after he left, the quiet man came back into the PTA meeting in the community building. He was holding a board in his hard-working, leathery hands. The board was about seven feet long and a foot wide, a bit warped and clearly hand-hewn, but on the whole it was a pretty good board. The man explained that he had no money at all to give to the school. But he felt it was important to give something of value so that the children of his village could have a safe school that wouldn't fall on top of their heads. This board was his only possession worth giving. To this quiet man, it was the most important board in the world.
There is indeed a moral of this story that applies to business leaders and those who sit on the board of directors that guide organizations. When you're faced with the tough issues related to maximizing profits, outsourcing, employee optimization, or downsizing, you might try to think of the B.O.A.R.D.:
B – Bring It All. Bring everything you know and everything you've got to the challenges you face because there are a lot of quiet employees relying on you that you may never hear from or meet, but they are giving everything they have every day to your company and they need you to do the same in return.
O – Overly Communicate. Let your people know what's going on in the company. Transparency leads to loyalty. An occasional company meeting to bring everyone up-to-speed can go a long way to ensuring that everyone is invested in the company's success.
A – Advise As If Your Life Depends On It. There are plenty of employees in your company whose livelihoods entirely depend on your decisions. For many employees it's a fine line between their livelihoods and their lives.
R – Remember. Remember what it was like when you had next-to-nothing. It changes the way you make decisions and why you make the ones you make.
D – Do the right thing.
Author
Tom Fritz is a Fractional CMO with Chief Outsiders, specializing in B2B2C, Growth Strategy, Go-To-Market, Brand/Product Strategic Development, Direct-To-Consumer, and Retail. Contact Tom at 707.396.0789 or TFritz@ChiefOutsiders.com.