The last time we met, I introduced you to a purposeful take on business growth called the Blue Ocean strategy. Outlined in the book, "Blue Ocean Shift: Beyond Competing - Proven Steps to Inspire Confidence and Seize New Growth," a book by W. Chan Kim & Renee Mauborgne, the Blue Ocean theory provides a series of waypoints by which to guide businesses into calmer seas.
Much like the captain of a seafaring vessel, you, too, need the right tools and data to navigate your enterprise from the "red ocean" tumult of uncertainty, and into the shimmering sparkle of "blue ocean" business success. This navigation chart includes three critical beacons that you must intercept to complete the journey – insights, strategy, and execution.
In our last blog, we discussed the essence of mastering the insights leg of the journey – namely, understanding how your company interacts with, and connects to, its customers and employees. Before forging ahead, it might be helpful to review the first blog. Below are the action steps we highlighted. These steps are mated to the first of the three Chief Outsiders' Growth Gears, the INSIGHTS gear:
Voice of Employee (VoE)
Voice of Customer (VoC)
Competitive Strategy Canvas
Competitive Online Research
"Walk the Room"
I believe all steps are necessary to gain insight; however, the tool that can help visualize where you are in relation to your competition is the Competitive Strategy Canvas. This tool is a one-page Blue Ocean Shift visual map that will help you identify where you and your competitors are expending the most resources in the bid for customers. By completing this map, you'll better be able to understand what is making your industry a "red ocean" of competition.

With insights on your stakeholders in hand, it's time to set forth for exploration of your go-forward strategy – a necessary step on the path to execution. I've broken it down into six steps that will help you to hone your STRATEGY – which is also known as the second Chief Outsiders' Growth Gear.

1. Mine Your Clients, Understand Your Data. With the sheath of insight-driven data in hand, it's time to bring your team together to put it all into context. Though it can seem like an enormous task to determine a starting point, fortunately, Kim and Mauborgne give us a great tool, called the Buyer Utility Map, to help us visualize the numbers. This map, when completed, will plot the usefulness of your product or service with its consumers, throughout its entire lifecycle – from purchase to disposal. This holistic view of the buyers' experience moves us from the single dimension of what stimulates purchase, to a greater understanding of how product marketing strategies shape different utility propositions for your offering.

At this stage, you and your team will also form a clearer picture of the metrics that drive your business – a picture based on the last three years of revenue and margins, your customer mix, your product mix, industries served, and other key metrics that drive your business. It may also be helpful to complete an activated SWOT found in "The Growth Gears" book, authored by Chief Outsiders' co-founders Art Saxby and Pete Hayes.

2. Understand Your Value and Differentiation. Now – with an understanding of the pain point of your clients as well as your unique differentiators over competitive interests, it's time to align on your offering's value proposition and brand promise. I have found, in my experience, that some inspiration at this stage can be helpful. I have recommended to CEOs that they read the book "Start with Why" by Simon Sinek as a precursor. Sinek applies a principle called the "Golden Circle" to an exploration of what truly distinguishes those people and organizations who are seen as more innovative, influential, and – ultimately – more profitable, from those who are not. A second book, "The Persuasion Code," by Christophe Morin, takes it a step further, talking about a discipline called "neuromarketing" that helps you to activate your key differentiators into a successful pitch and close.

Finally, make a commitment to stop talking about what makes you great, and instead renew your focus on the customer's pain – and how your solution set targets, and alleviates, that pain.

3. Understand and Reconstruct Your Market Boundaries. As you are powering up your strategic engine, your new viewpoint on your market, and your offering's role in the marketplace, is revealing some new perspectives. Now is a good time to use your insights and data analysis to look at strategies to expand your market to new frontiers.

In a bid to undertake this process with intention, Kim and Mauborgne created something called the Noncustomer Theory – a three-tiered classification of those who currently are not consuming your product. By examining, and then focusing on, what is shared in common by existing customers and noncustomers, you can better strategize how to draw them into your marketplace.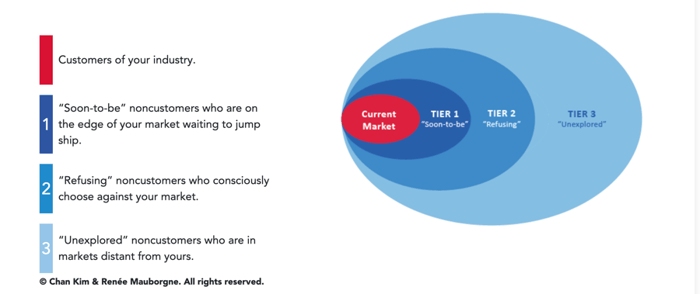 4. Complete a Product and Service Matrix. Understanding the confluence between what the market is demanding, and what your current offering looks like, is an important next step in forging your strategy. Here at Chief Outsiders, my colleagues Art Saxby and Pete Hayes authored a book called "The Growth Gears" that does a terrific job of assisting CEOs in honing their go-to-market plans. In the book, Saxby and Hayes provide a tool called the "Product and Service Matrix" that helps you evaluate both the current state of your offering, as well as any planned enhancements, and links them to the acceptability of the offering by new and expanded markets. Completing this matrix will help you sharpen your strategies around the introduction – or reintroduction – of your offering to specific customer personas.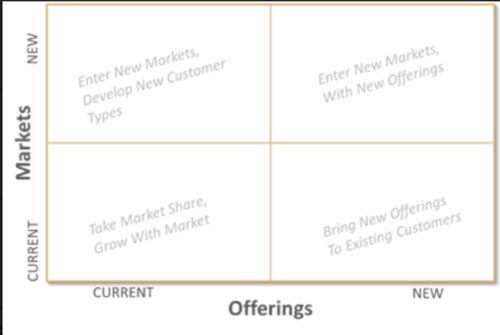 5. Complete the ERRC Matrix. Another useful tool – delivered by "Blue Ocean Shift" authors Kim and Mauborgne – is called the Eliminate-Reduce-Raise-Create (ERRC) Grid. Its intent is to encourage CEOs to focus on four simultaneous pillars – eliminating and reducing factors that no longer meet the consumers' needs, while raising and creating new strata of standards and benefits that will unlock a blue ocean for your offering.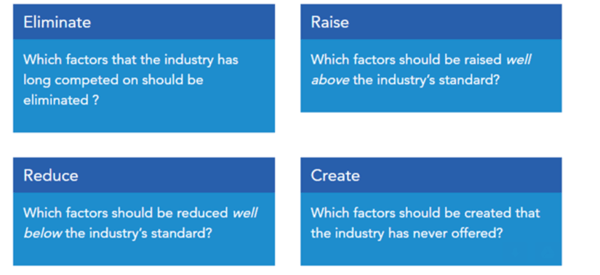 6. Develop Your Strategy Canvas For the Future. Finally, it's time to once again retake the Competitive Strategy Canvas you first encountered in our initial blog (and reiterated above). With all that you have uncovered and learned in the first five steps of your strategy exploration, by revisiting the strategy canvas, you'll get an outstanding visual representation of where you stand against the industry and top competitors, and how your competitive factors rank from your perspective.
In our final blog in the series, we will take the insights and strategy points I have armed you with, and will help you develop an executable go-to-market plan that will complete your journey from the red to blue ocean. Stay tuned.