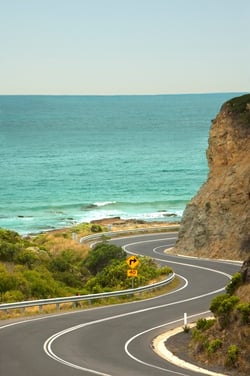 If you live by the almighty smartphone calendar and its subsequent chimes, bells and whistles – you're not alone. The demands of a fast-paced, round-the-clock society and economy have not only conditioned us – but now require us – to plan abundantly, and ahead of time. From the granular details of our children's school and career trajectory, to the seven or eight places we need to show up today alone, most of us have dreamed up productivity plans for almost every aspect of our lives. This especially includes our plans for business growth.
Unfortunately, business and life don't always go as scheduled. In fact, success in nearly any endeavor invariably fails to follow a completely linear path. Instead, sales growth trajectory usually involves some up and downs, and the willingness to sometimes veer off the beaten path and take the scenic route. To succeed in today's customer-controlled purchasing journey, says McKinsey & Company, we must abandon the idea of linear business models, and instead, embrace the "squiggly line." This means being able to stand at the ready to adapt to new challenges and opportunities.
Today's Squiggly-Lined Buyer's Journey
While it's not news that sales and marketing motions are becoming more complex, customer expectations within the buying and selling experience are different. Your customers now dictate their ideal buying experience, a trend that will only grow as accessibility to information across all digital and physical spaces increases. What needs to happen now? Both in the B2B and B2C space (and in B2B especially), sales and marketing teams must adapt their sales processes toward a customer-centric, dynamic selling approach.
It goes a little like this: buyers take more control of their purchasing journey as they enter and exit the sales pipeline at various points in the buying process. In just a couple of clicks, buyers can now discover how other companies have solved similar problems, get recommendations on which vendors might be able to help, compare products and/or services, explore relevant reviews, and even receive detailed pricing. In most cases, they can do all of this without having to talk to a single sales rep.
More and more buyers are embracing this online, self-serve approach because they find it's more efficient to troubleshoot their own problems, get answers to their buying questions, and most importantly form opinions in an unbiased way. The traditional "linear" sales funnel, in which everyone enters the sales process at the top of the funnel and follows a similar buying experience, no longer exists in most industries.
To achieve sales growth in today's business landscape, you're going to have to be flexible. Unfortunately, executive, you can't exactly walk in a straight, neat line when a new economy requires your business to turn in a different direction to land at growth and success. Ready to tread the squiggly line? Here are four ways to do it like a boss:
Don't get stuck in past methods of business. Sure, your brand's or industry's predecessors did things a certain way – and your competitors may continue to do the same. However, you need to be willing to take on new ways of marketing to your prospects. It's time to change your focus and embrace the present and future of your enterprise by understanding how to succeed in today's digital economy. Of course, we live in a digital and service-based economy that demands an unprecedented level of agility and innovation from your business. What is Sales? To stay relevant, SAP advises, companies need to change from selling products to selling services and outcomes
Change something that is antiquated or draconian. For today's business, this represents a change in both business strategy and the types of information technology that supports changing business processes. In a short time, we have reached the point at which the primary purpose of enterprise solutions is not to record and document the past, but to support predictions that can help businesses reinvent their business models, decision making, and processes, and instantly respond to opportunities.
Transform your old ideas of sales and marketing roles. Today's buyers, both in the B2B and B2C space, are more educated than ever before. Re-align your sales and marketing roles within your organization to fully leverage the differences between sales and marketing - along with training and compensation models - to better support buyer engagement preferences.
Get on board with technology. Sales enablement tools can help businesses like yours quickly identify where prospects are in the squiggly buyer's journey and support a personalized selling experience for that prospect, reports Salesforce. Embracing digitization, which includes becoming part of a network that connects customers and suppliers with the enterprise, is the key to survival in an economy that values the consumer as an integral part of the entire life cycle of a product and service, and not just as a single transaction.
Just as in life, there will always be circumstances simply out of our control in business, forcing us to alter plans. Remember, however, that there are multiple paths to the same destination – and making too many plans how our business should grow can limit our possibilities during the journey. It's not about compromising your company's values or giving into somebody else's demands. It's about the willingness to try something different when what you're doing is not working.