Part 1 of Creating Sustainability for the Business Series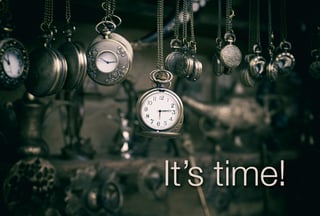 What time is it? In ITR's April 2017 Economic Trends Report, "It's go time" and according to numerous leading indicators that they track, we're in the part of the business phase where keeping up with demand becomes our key challenge.
So, it's all good, right? Well…
CEOs Without a Plan
I was recently speaking with the CEO of a mid-sized company in a growing industry: Over the last 18 months he has significantly invested in people, product and markets to capitalize on the rising tide of demand within his industry. He is unsure why sales remain flat year-over-year for two years even as others are growing.
In discussion with another mid-market CEO experiencing sales declines, I mentioned the need for a strategic marketing roadmap or plan to avoid "random acts of marketing." She immediately gasped, covered her face with her hands and replied: "that's exactly what we're doing – random acts of marketing."
It isn't the first time I've seen this reaction, nor is it the first time I've witnessed the angst that comes with realizing you are potentially misfiring with hard-earned company cash vs. capitalizing on the opportunity at hand.
Here's another example: A well-known company selling lifestyle products to Millenials sets aside 70% of its sales & marketing budget for the same 3 initiatives every year. And the kicker—they readily admit they don't know if there is an ROI—it's just what they've always done. The CEO reports that sales are increasing, but at roughly half the pace of competitors.
What Kind of Plan?
At the other extreme, I've seen beautifully detailed plans—containing everything from SWOTs to scatter-grams, BCG matrix, pie, bar and bubble charts, complete with 20 pages of attachments—sit on a dusty shelf or inbox with little buy-in or execution, and referenced only as company leaders vow to end the practice of strategic planning.
A key conclusion from this example is that it's not how short, long, simple or complex the plan is; it's the:
Quality of the insights
Clarity and Quality of the strategies
(which, by the way, depend on the clarity and quality of the insights)
Efficacy and thoughtful implementation of well-resourced tactics
Organization's trust that the CEO is committed and this matters
Plan alignment throughout the organization
And the resulting energy and commitment of the team carrying it out
So how do you begin?
Start with clarity on what success looks like, otherwise known as your vision. What is vision? Chief Outsider's Managing Partner and colleague Tom McCrary has a webinar on this topic "Creating a Vision to Inspire Your Organization."
He describes vision as, "a clear and vivid description of what success looks like at a specific point in time in the future," to give your organization a roadmap to get where you want to be.
What better way to start a roadmap than to be crystal clear on where you're going?
Vision is only half the equation, however, because it's also important to think through why you can't stay where you are—meaning, if you don't change course, what will happen? Only if the perceived and real pain of staying is greater than the pain or effort of changing course, will alignment and commitment come.
So, in executing an effective strategy—making the right moves, ensuring that you're leading with vision, and that the team is motivated to moving with you is the essential first step.
What comes next?
If you choose not to craft a vision, or feel you have one already, make sure that you, the CEO, articulate your purpose, your "why" as Simon Sinek calls it.
Why the focus on your role as CEO? Why not just hand off strategic planning to finance or a marketing person and let them run with it?
As I mentioned in my webinar "Strategic Plans Gone Bad: 5 Ways to Fix Your Focus," strategic planning is not just an exercise, strategic planning is fundamental to the growth of your revenue, the engagement of your team, your reputation in the market, your overall health as a business.
At Chief Outsiders, we help companies develop and implement their strategic growth and marketing plans. But, your direct involvement and leadership is crucial to success, because the plan is owned and led by you and your team. If this isn't a top priority for you, it won't get momentum early or traction later.
If this message resonates with you, please share through your social media channels.