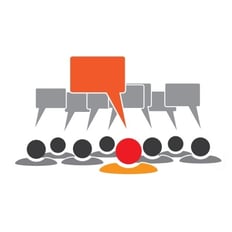 Organizations are making significant investments to gain knowledge about their market and customers. Hiring social community managers, deploying social listening tools, and conducting market research are all methods used to tap into the voice of the customer (VoC). However, if the insights gleaned from the VoC data do not travel throughout the entire organization, the true value is not recognized.
According to a recent report by Forrester,[i] companies stand to gain a big competitive opportunity by turning customer insights into action. Not just incorporating insights into sales presentations but using customer insight to design new products, improve operations, enhance service and squash the competition. The key point is that when employees and customers connect, and the insights collected are shared, in real time, employees can incorporate this information into their daily decision making. The result: better decisions.
The Customer-Activated Enterprise (CAE)
Forrester refers to this mindset as the "customer-activated enterprise (CAE)" and defines it as a company that uses technology to connect customers and employees so that every employee has real time information in order to provide more competent customer engagement.[ii] This means that all employees (not just marketing or sales) can access real time, customer interaction information.
To provide real time, ongoing customer intelligence, processes and systems need to be in place to collect the information from all customer touch points – virtual and live. Then, once collected the systems need to pool the information, organize it and make it available. This requires groups like marketing to share brand sentiment trends with the product development and service teams. Customer service must commit to capture customer feedback and ensure it is entered into the system.
Challenges to Implementation of CAE
Empowering employees with information to help them build better products, solve problems faster and strengthen customer relations make total sense. However, from past experience, some questions come to mind:
Collaboration – what tool is going to be used to share the information? Is it easy to use or confusing? How can adoption rates be increased?
Technology – will the current systems accommodate the need to combine insights from various groups or will additional investment be needed?
Change Management – who is leading the charge for the effort? IT? Marketing? HR?
Investments – what is the overall investment in time and hard dollars? How can the ROI be justified to the CFO?
Benefits of CAE
The benefits of embedding the voice of the customer into every role, decision and plan will result in products innovation, shorter selling cycles, service excellence and overall growth. It will require company leadership to make the investment to bridge systems and create a culture of collaboration and true information sharing. Marketing, sales, product development, information technology, customer support and the other functions will have to play nice, adopt the tools and share actionable data.
Seems like a tall order? It may be but considering the benefits, it may be worthwhile. Companies who fail to invest in the systems to listen and share customer insights will put themselves at risk of extinction.
[i] Forrester Research, The Customer-Activated Enterprise by Rob Koplowitz, Laura Ramos, and Art Schoeller, October 16, 2014,
[ii] Forrester Research, The Customer-Activated Enterprise by Rob Koplowitz, Laura Ramos, and Art Schoeller, October 16, 2014