Random Acts of Sales & Marketing
Eager to generate more sales, many businesses grasp at sales and marketing tactics as if the answer to growth is some magic combination of the latest approach they've yet to deploy. In actuality, the road to success is much more about discipline and alignment to your strategy than anything else.
A Fractional CMO Leads Execution With Experience
When a company deploys a fractional CMO from Chief Outsiders, they gain the practical, hands-on, battle-tested leadership acquired from decades of executive experience. This means better decisions can be made faster, accelerating the path to growth.
Spend Less, Get More
When the your strategy is based on solid market insight, and your execution plans are aligned to your strategy, you get better results with less effort. You're focused on doing the right things, in the right way, for the right reasons. That's efficiency. Anyone can spend money on marketing and promotion. But when marketing is done right - such as outlined in The Growth Gears - business results are achieved faster and new practices and disciplines stretch into the future. Providing you an engine for growth.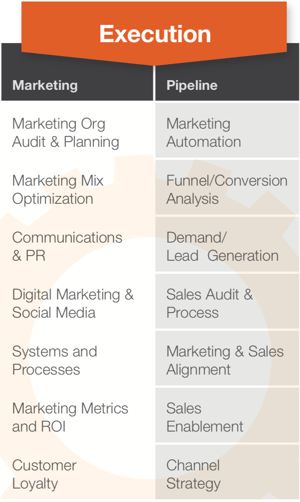 Lorem Ipsum