The B2B and B2C expansion-minded marketing leader joins the nation's leader in part-time "Executives-as-a-Service"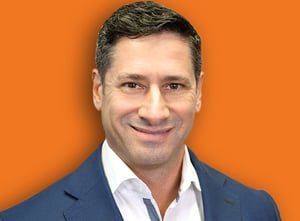 PITTSBURGH, PA – December 6, 2018 – Marketing – often considered primarily a support function for mid-market businesses – should in fact be a strategic driver of measurable revenue growth. So says Rich Oprison – the latest addition to fractional Chief Marketing Officer firm Chief Outsiders – who has leveraged his transformative approach to marketing to deliver demonstrated results throughout his career.
Oprison – who joins one of the the nation's fastest growing consulting firms at a time of great expansion – has delivered innovative marketing approaches for a variety of companies, including ThermoFisher Scientific and GNC. He most recently was the EVP, CMO, Head of Employee Engagement for ServiceLink, a leading national provider of traditional and digitized mortgage services.
At ThermoFisher Scientific, Oprison spearheaded the global relaunch of fishersci.com, the e-commerce website for the lab research and safety products distribution business, Fisher Scientific. The relaunch resulted in growth that eclipsed that of the the overall business. He also piloted and launched the division's first Account Based Marketing program, which accelerated sales growth for the inside sales team While at GNC, Oprison led a team that doubled the same store sales rate within one year, while reducing marketing spend via improved marketing effectiveness, more persuasive and relevant promotional themes, and a refresh/relaunch of the GNC brand and store design.
"Throughout his career, Rich has demonstrated an ability to identify and develop the strategic marketing elements that drive sales and profit growth across companies," said Slade Kobran, Managing Partner of Chief Outsiders' Northeast Team. "He not only uses his broad experience to identify the most impactful levers for driving top and bottom-line results, he's also a master at putting these insights into action in a way that enables an entire organization to work together to deliver the business performance company stakeholders require. He's also particularly adept at helping companies develop their 'employer brand' as a means of attracting and retaining the best possible talent to become an employer of choice in their industry and region".
Based in Pittsburgh, PA, Oprison is available to support client growth needs anywhere, and is focused on assisting CEO peer group leaders such as Vistage and C12, midsized business services providers such as fractional CFOs and sales consultants, and others who serve midsized businesses from Central PA to Central OH.
Oprison earned a B.S. in Chemistry from George Mason University, and gained his MBA in Marketing, General Management and Entrepreneurship from the Tepper School of Business at Carnegie Mellon University.
About Chief Outsiders
Chief Outsiders, LLC is a nationwide "Executives-as-a-Service" firm, with more than 60 part-time, or fractional, Chief Marketing Officers (CMOs) engaged from coast-to-coast. Unlike other strategic marketing and management consulting firms, each CMO has held the position of VP Marketing or higher at one or more operating companies. Chief Outsiders have served on the executive team of over 700 client companies to drive growth strategy and execution plans for a fraction of the cost of a full-time executive.
Because of its market-based growth plans, quality of leadership, and experienced team, Chief Outsiders has been recognized for the past five years by Inc. Magazine as one of the 5,000 fastest growing privately held companies in the US, and was recognized in the Houston Business Journal's Fast 100. Chief Outsiders' CEO Art Saxby and Principal Pete Hayes are the co-authors of "The Growth Gears: Using a Market-Based Framework to Drive Business Success," an Amazon #1 best-seller for business owners and CEOs. For additional information about the companies who trust Chief Outsiders as their premier source for business growth acceleration, click here.