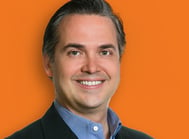 New York, NY – July 9, 2015 – Chief Outsiders, LLC, the nation's leading strategic marketing firm comprised solely of C-level marketing executives focused on addressing the growth challenges of midsized companies, expands its growing tribe of world-class marketers with the addition of Mauricio Barberi to its northeast team. Based in Manhattan, Mauricio will help CEOs in New York and around the U.S. activate new revenue growth, realize their market potential, and bring their company visions to life.
Mauricio brings deep experience leveraging and integrating multiple go-to-market channels – including web, social media, direct sales and partner ecosystems – to deliver superior market results for emerging and middle-market businesses. He is an accomplished full-spectrum marketing, business development and product executive who has built, led and energized high performance teams on a worldwide basis; developed and launched disruptive SaaS, Cloud and Big Data/Analytics products and services; and driven breakthrough revenue growth in partnership with sales leadership.
"As a member of the Chief Outsiders tribe, I am excited to partner with the CEOs of emerging growth companies to help them realize their market potential," stated Mauricio. "In addition, I will continue to share and grow as a member of a network of the most talented marketing executives anywhere and to deliver some of the best work of my career," he added.
Mauricio comes to Chief Outsiders from his role as Strategic Advisor and acting CMO at Upstream Commerce, where he helped the Israeli pricing intelligence SaaS innovator re-position and launch its suite of applications in the North American market. Prior to Upstream, Mauricio was SVP of Global Marketing at Cloud supply chain management platform TradeCard, where he established the go-to-market strategy, multi-channel program and marketing team and led the global front office integration following the company's merger with GT Nexus, all while doubling revenues. As SVP of Worldwide Marketing at CGS/BlueCherry, he unlocked the value and growth potential of four business units through market-focused strategies and new on-demand product launches, enabling the company to sustain growth during the financial crisis. Prior to CGS, Mauricio overhauled the marketing organization and partnered with sales leadership to drive double-digit improvements in top line growth, pipeline expansion and sales productivity at NASDAQ-traded enterprise archiving software firm Mobius, culminating in its sale at 3x the baseline valuation. Earlier in his career, Mauricio helped to put CRM and clinical trials services firm C3i, Inc. on the map by developing and implementing a new go-to-market strategy; led client engagements as a member of Accenture's Strategy Practice; and developed state-of-the-art test systems used in high tech manufacturing for Schlumberger in Silicon Valley. Since 2008 he has served on the Board of Directors of Tecnoquímicas S.A., a privately-owned CPG and pharmaceuticals enterprise serving markets in Central and South America.
"Having an experienced operating marketing executive of Mauricio's caliber in the important New York market is a real coup for Chief Outsiders," said Slade Kobran, Managing Partner for Chief Outsiders. "His experience in growing emerging and middle-market companies is a perfect match for the businesses Chief Outsiders helps. In addition, his broad B2B integrated marketing experience, deep digital marketing skills and strategic business development focus provide tangible benefits to the CEOs with whom he works. I am looking forward to partnering with Mauricio to generate incremental revenue for middle market companies in New York City and throughout the U.S."
Mauricio earned an MBA from Harvard Business School and a S.B. in Mechanical Engineering from Massachusetts Institute of Technology. He is fluent in Spanish and French, and actively participates in several entrepreneurship and executive leadership organizations in New York City, where he lives. Mauricio Barberi can be reached at MBarberi@ChiefOutsiders.com.
About Chief Outsiders
Chief Outsiders, LLC, an "Executives-as-a-Service" firm, helps grow mid-sized companies from coast-to-coast with more than 40 part-time, or fractional, Chief Marketing Officers (CMOs) who have held positions of VP Marketing or higher at one or more operating companies. These individuals' breadth of experience makes it possible for Chief Outsiders to put the right skill set on a leadership team of any company for a fraction of the cost of a full time executive. Unlike other strategic marketing and management consulting firms, Chief Outsiders works with company leadership teams to develop and implement market based growth plans. Chief Outsiders believes delivering a world-class marketing strategy on its own creates little value and that the real value is created by helping the organization implement the growth vision.
Because of its market based growth plans, leadership and experienced team, Chief Outsiders was recently listed by Inc Magazine as one of the 600 fastest growing privately held companies in the US (in the top 10 in Houston) and recognized for the Houston Business Journal's Fast 100. Businesses seeking Chief Outsiders as a premier source include: ErgoGenesis, Five Stone Tax, Summa Technologies, and Riverside Company portfolio companies OnCourse Learning, YourMembership and IDoc, Source Capital portfolio companies such as Abutec, and Merrill Lynch Specialties Group portfolio companies such as EarthColor.
CONTACT: Sterling Wilkinson, 817-771-2997, SWilkinson@ChiefOutsiders.com