Fractional CMO firm elevates Barberi for his success in fostering growth at small- and mid-market businesses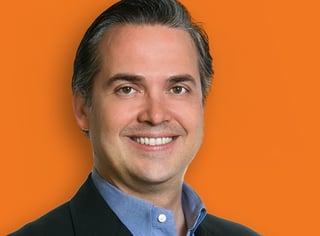 NEW YORK, NY – March 20, 2017 – Digital-savvy technology marketing executive Mauricio Barberi has been named a partner at Chief Outsiders, in recognition of his effectiveness at fostering growth at the small- and mid-market companies that constitute the firm's client base.
Chief Outsiders – one of the nation's leading Executive-as-a-Service firms – recently cited Barberi's recent work with client A2B Tracking Solutions, which delivers critical asset tracking solutions to the military and aerospace industries.
Barberi partnered with Chief Outsiders colleague Todd Chambers to reposition the firm within its markets, creating a new messaging framework and more clearly defining its unique advantages over their competitors. The strategic engagement helped A2B overhaul their web presence, double its lead generation in just six months' time, and make the company's overall marketing initiatives more efficient, impactful and effective.
"Chief Outsiders empowered our team to sharpen its focus and gain clarity on our growth model," said Peter Collins, President and CEO of A2B Tracking. "Mauricio [is] a product marketing and positioning guru...the insights and strategy developed enable A2B Tracking to realize its mission."
Barberi's unique marketing experiences, honed over the course of a career spanning more than two decades working with mostly emerging growth and middle-market technology innovators, recently became the focus of an eBook he authored, "How to Build Your Marketing Team for Growth: Four Questions Every B2B Venture CEO Should Explore."
During his storied executive marketing career, the New York-based Barberi has built, led and energized high performance marketing, product and business development teams on a worldwide scale; developed and launched disruptive products and services; and driven breakthrough revenue growth for innovators in high tech, enterprise software, SaaS, Cloud, and IT & business services.
"Mauricio is an outstanding executive, a savvy marketer, and a great partner to work with, "said Slade Kobran, Managing Partner of Chief Outsiders' Northeast team. "He regularly delivers immediate, measurable results for our clients, along with innovative go-to-market strategies driven by insights and his unique business experience. Mauricio is adept at building long-term relationships as a member of our clients' teams, leading to enhanced value over time. I am pleased to welcome Mauricio to the ranks of Partner at our firm."
About Chief Outsiders
Chief Outsiders, LLC is a nationwide "Executives-as-a-Service" firm, with more than 50 part-time, or fractional, Chief Marketing Officers (CMOs) engaged from coast-to-coast. Unlike other strategic marketing and management consulting firms, each CMO has held the position of VP Marketing or higher at one or more operating companies. Chief Outsiders have served on the executive team of over 500 client companies to drive growth strategy and execution plans for a fraction of the cost of a full time executive.
Because of its market-based growth plans, quality of leadership, and experienced team, Chief Outsiders has been recognized for the past three years by Inc Magazine as one of the 1,000 fastest growing privately held companies in the US, and was recognized in the Houston Business Journal's Fast 100. Chief Outsiders' CEO Art Saxby and Principal Pete Hayes are the co-authors of "The Growth Gears: Using a Market-Based Framework to Drive Business Success," an Amazon #1 best-seller for business owners and CEOs. For additional information about the companies who trust Chief Outsiders as their premier source for business growth acceleration, click here.
CONTACT: Sterling Wilkinson, SWilkinson@ChiefOutsiders.com