Marketing has changed...and will move at an even more rapid pace in the future, so check out these tips to improve your marketing muscle!

1. Benchmark against key competitors.
Take out your smartphone or tablet right now. Go to Google or Bing and ask a question you think one of your prospects might use to find your business.
Did you come up in the search results on the first page?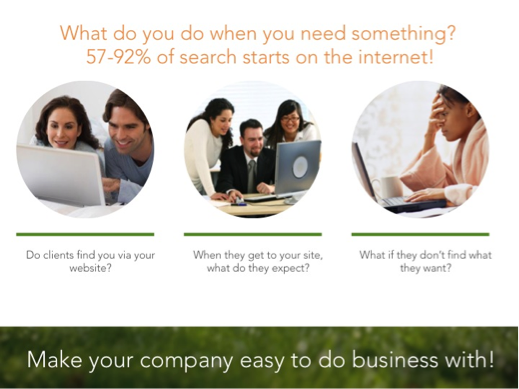 75% of people don't go beyond the first page when looking for answers. Look at who did come up first. Benchmark yourself against them. Go to SEMRush.com and put in your website as well as theirs. Check out what they are doing better.
2. Review your marketing spend.
Check out industry spends on Gartner. The average is 4% of revenue, but it varies widely, depending on the industry and the stage your company is in. But look where you are spending your money and time, and then figure out what you need in terms of a return to be assured of a long term positive ROI.
If you are spending $200 on a lead that generates $1200 in revenue, will you ever make a profit?
If you are going to a trade show that is costing 20% of the marketing budget but generating 50% of the new leads, does it make sense to allocate more of your budget here?
3. Develop your strategy before, not after deciding on tactics.
At Chief Outsiders, we can't tell you how many companies we work with who have invested in a series of diverse tactics, from spending on Google AdWords to Billboards. First look at what your long term goals are, then start thinking about the tactics needed to achieve those goals.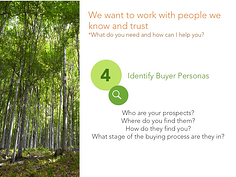 4. Identify Buyer Personas.
Think about the characteristics of your most profitable customers. Where do they go for information, what is their preferred method of contact and what are their demographic characteristics? Paint a picture, and then put a face and name to them and always be thinking, "What do they need, and how can I supply it?"
5. Integrate Everything.
There are many siloed organizations where one person is in charge of PR and another social media and still another trade shows and events. The companies that are doing the best nowadays are those that have broken down these silos and operate in a team environment where everyone is aware of the goals and objectives and each piece of marketing content is shared and used in many different ways. Break down the barriers, and build an integrated structure so that each dollar you spend goes further.
6. Become Data Driven.
Constantly think about how you will evaluate the results of your marketing spend. Insist, "Show me the numbers!" There are excellent, inexpensive tools out there that can be used to analyze the results of your marketing spend. Whenever you think about investing in something in marketing, think about what else this money could be used for. Where will you generate better results? To do this, you need the numbers. Analytics, not Anecdotes!
7. Use Technology and Test, Test, Test.
Experiment. Nowadays, you can develop different variations of ads and landing pages and then experiment on what works best. With one of my clients, we are experimenting with different Facebook ads. You get to try 6 variations and then check which ones are performing the best. Oftentimes, the ones we thought would do better, don't. So, experiment and test! Don't bet the bank initially. In today's agile companies, most start with a smaller budget, pivot on what works and then go forward.
8. There is no Digital Marketing, just Marketing!
And everyone is in marketing. Constantly challenge your staff to think about the marketing implications of everything they do. From the person who answers the phone to the CFO of the company, everyone has responsibility for building the brand and delivering results.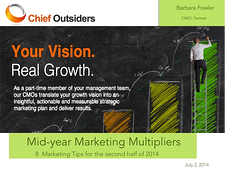 For more information, listen to a recent webinar Chief Outsiders gave on "Marketing Multipliers." Remember, what worked yesterday, may not work today. And what is working today, may not work tomorrow! Change is constant. Be on top of it.