Here's the question: When competing for the hearts and minds of prospects and customers,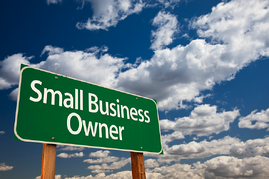 how do smaller companies effectively compete with the big spending of big brands?
Underdogs like me want to know.
At a time when smaller company startups are exploding and digital technologies are leveling the playing field, this question is a compelling one. Understanding small brand versus big brand (or David versus Goliath) was a key conversation at The CMO Club Fall Summit. In a discussion led by Andrew Dun, VP-marketing at Insight Beverages and Rob Leibowitz, partner at TSG Consumer Partners, I learned some insightful perspectives.
1. The One Key to Survival. As a smaller business, it is not possible to spend like a larger brand in all areas. The way to spend your dollars most effectively is to identify—for your company, your offering and your customers—the areas that are most critical for maximum investment. As my friend Rody Salas says, it's all about "prioritizing 'til it hurts" and uncovering opportunity costs that make the most sense for your business. While prioritization and focus is true for businesses of all sizes, it is critical to the survival for companies with lesser budgets where there is less room for error and much less wiggle room.
Survival equals prioritization + focus.
Here's an example: Raybern's sells heat and serve sandwiches, like Philly cheesesteak sandwiches (yum!). In their world, enticing graphics/images of delicious, mouth-watering sandwiches is critical. They spend there, and cut corners elsewhere. Visual identity is a key connection point for their customers and they prioritize spending around this lever.
2. Flexibility Takes on a New Meaning. Gone are the days of static planning followed by marketing execution. Creating a flexible and iterative approach—something I call Agile Marketing—is essential to optimize spending and focus on the activities that produce the most ROI. That requires measuring and reacting and revising constantly as you see how your customers and prospects behave.
Using this approach can help smaller companies be smarter with spending and dollars and create a more level playing field with larger companies. Agility is here to stay and embracing it is essential to get the most from your marketing spend.
Flexibility, Agility and Iterative Approaches deliver more ROI.
Here's an example: RightSize Smoothies sells through retailers such as CVS, Albertsons, Kroger and Walgreens. In 2009 RightSize offered online sales in conjunction with their direct response advertising. Today, retailers request product based on the direct response responses, allowing RightSize to provide supply, all based on real demand and real customer responses.
3. Talent and Attracting the Best on a Limited Budget. During our CMO Club discussion, there was unanimous agreement that attracting the best talent is a make-or-break decision. You cannot compromise on talent. Fortunately, the budget requirements to attract great talent are flexing as new models are emerging that can solve this for smaller companies. The traditional model of hiring an agency on a set retainer fee is being challenged and augmented with contract, pay-as-you-go and as-you-need resource models. For example, new agency models that offer contract resources around a capability or for a part-time extended basis to augment existing marketing teams are gaining in popularity. These new models allow a robust and extensive talent pool for businesses of all sizes. Using gainsharing to attract and motivate resources also gives smaller companies an upper hand when recruiting talent.
Top talent is critical and access to contract resources and new agency models levels the playing field for smaller businesses.
Here's an example: Chief Outsiders is a company that provides fractional (contract-based, part-time) CMOs and other C-level executives for companies. This concept is also true for agencies and/or online sites such as Elance that provide fractional marketing resources for CMOs who need to round out their team or buy a specific capability for a shorter-term or budget-constrained project.
In our new world of online identity, smaller companies can now compete with larger companies by using novel approaches and new models that are emerging. Larger companies benefit, as well as they are forced to stay sharp and minimize complexity so that they can be nimble. For the underdog in all of us, the David versus Goliath possibilities are welcome and beneficial.
Author

Sandra Zoratti is an author, speaker and marketer. You can find Sandra on LinkedIn, Twitter @sandraz and on her website, sandrazoratti.com. Contributing to this blog post were Matt Dirks, director-development at Access Marketing & Events, and Amanda Thall, marketing manager at Quark Software Inc.