Blame Game
In a down economy where sales are hurting and positions are being cut, it's all too easy to start playing the blame game -- focusing on whose fault a problem is rather than focusing on how to solve the problem as a team. In Poland, at a large financial institution, we faced just such a situation between the salespeople and the marketing department.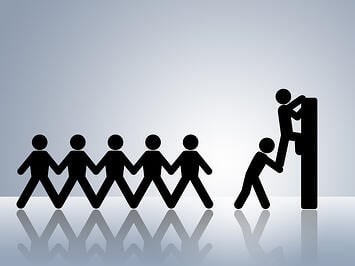 What Support?
The salespeople were saying, "We can't sell because we're not getting the marketing support we need," while the marketing people were saying, "We're giving the salespeople plenty, they're just not getting the job done." We had to get everyone to focus on the overall goal of winning, rather than on who was right or wrong. Once that focus was changed, we were able to sit everybody down together and get things rolling again as a team.
Walk In My Shoes
Why does this happen? Well, in many cases you'll find that marketing professionals and sales professionals have diametrically opposed personalities. Salespeople can come across as brusque, demanding and sometimes even rude, whereas marketers can seem to be all about surface polish. Truth be told, however, most would not want--or be good at--each others' jobs. An in-house marketing person might look at a salesperson and think, if not say, "You only made ten calls"--how much time could that have taken?
But if the marketer had to actually make those ten calls himself, he'd revise his opinion soon enough. And marketers who complain about "diva" behavior from top sales performers need to realize that sales success isn't always about being nice, it's about getting people to do what they need to, but not necessarily what they want to do.
Skills to Win
After all, if you were having a heart operation, would you choose the surgeon with the kindest bedside manner, or the cranky old cuss whose skills had already saved a thousand lives?
- by Barbara Fowler bfowler@chiefoutsiders.com 908.956.4529