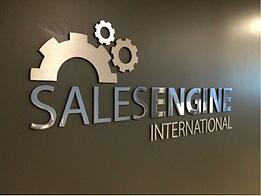 Today's blog is by Chief Outsiders' guest blogger Paul Rafferty, CEO, Sales Engine International.
A pattern is emerging in B2B marketing -- CEOs are frustrated that they can't find a VP of marketing who can do it all, and marketing executives are leaving their positions or being let go because either they don't have the capabilities or aren't being given the resources to do their job in today's Sales 2.0 world.
Due to the maturation of the Internet, the world of B2B selling has changed forever. Prospects now control the discovery process and learn on their own about a company's products and services. They are avoiding the "live" sales interaction for as long as possible.
Consider the following:
85 percent of B2B prospecting phone calls (cold calls) go to voice mail and are never returned,
80 percent of the time, B2B buyers state that they find the seller before the seller locates them, and
50 percent of B2B quota sales reps are NOT making their annual quotas.
This shift has caused a much greater reliance on the marketing department to get their sales representatives "in the door." This process now begins with a digital marketing interaction, which, hopefully, will evolve into a personal selling interaction.
Today's Marketers Need Additional Skills
Finding, connecting with, and engaging prospects requires technology, skills sets and resources that did not even exist five years ago. To be successful, marketing strategies and tactics must be realigned with this new prospect behavior.
Most marketing leaders who entered the workforce 10 or more years ago are well-schooled in a certain set of skills:
. Marketing Communications
. Advertising
. Tradeshows
. Direct Mail Campaigns
. Public Relations
Today's Web 2.0 and Sales 2.0 requires a leader fluent with an additional set of skills:
. Digital Media Creation: Because a company's first impression with a prospect is often created digitally, it is important to produce compelling content (Flash/Video) that can be distributed via e-mail or online to both build awareness and to entice recipients to want to learn more about the company and its products or services.
Producing compelling digital content for e-mail distribution is an art that cannot be overlooked, especially if you consider the fact that this is a company's first impression. Content must be informative and packaged in an engaging format (e.g. flash or video) in order to have a significant impact on their purchasing process. Techniques for accomplishing this:
It Takes a Village of Fractional Resources
CEOs, especially in small companies, often are frustrated when they can't find all of these capabilities in one marketing leader and, more importantly, that these leaders don't have the bandwidth to handle it all. To succeed, companies must go deep into each of these areas. A poorly executed, glossed-over approach will not work.
Do CEOs know this? Or are their expectations unrealistic about their marketing leaders' (or anyone's) ability to do this by themselves? Sales and marketing executives are struggling to find and fund the dedicated expertise to string this critical business process all together. Technology (and the Web, specifically) has raised the bar for the depth and breadth required to succeed in marketing. Many companies are finding themselves falling further behind their well-funded competitors. Until these critical functions are either funded internally or outsourced to a competent partner, marketing will struggle, CEOs will pull their hair out, and the churn will continue.

Paul Rafferty is the Founding Partner of Sales Engine International and Chief Executive Officer. Paul is a richly experienced Senior Sales Executive whose unique insights are greatly valued by all Sales Engine clients. Paul provides the Executive Leadership for Sales Engine's Sales and Business Development Teams. paul.rafferty@salesengineintl.com