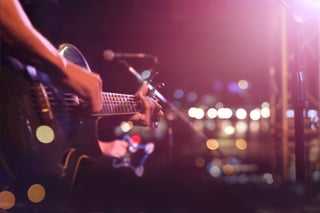 OK, quick question: When was the last time you heard the tune, "Don't Go Breaking My Heart" by Kiki Dee? Or, how about "Disco Duck" by Rick Dees and his Cast of Idiots? Probably not lately, or even in the last decade. That's because these two songs are among the many sad tunes known as "one hit wonders" – songs and musicians that had their moment of glory – vaulting to the top of the music charts, then vanishing, forever.
Of course, several musicians from that same era – guys like Bruce, Billy and Elton (whom we all know without even hearing their surnames) are still touring, playing to packed houses in front of fans that know the lyrics by heart.
Undoubtedly, in your day job as a corporate CEO, you strive to be a business growth rock star. But the corporate equivalent of jamming in front of a sold-out arena can be somewhat elusive – if you're not following in the footsteps of the tried and true success stories.
So, grab your Fender Stratocaster, and let's riff along with the pros. What is it, exactly, that the perennial winners do to remain evergreen and successfully growing? And, importantly, how can these lessons be applied to growing your company? Rock on:
Rock and Roll Lesson No. 1: Continuous Learning
The most successful rock stars are always learning new skills. Springsteen took a break from the E Street Band and detoured into acoustic and blues music. His classic "Born to Run" fans didn't always like it, but he became a better musician and incorporated what he learned into his current work.
Bruce Hornsby, an accomplished pianist and "set piece" artist, at the age of 60 decided to become an expert mandolin player, and turned in his previous structured "Range" band for the "Noisemakers," an improv band with a heavy jazz influence and eclectic style. He pushed himself to learn new skills, and his fans loved it.
Is your company pushing itself to learn new skills? Does your sales force have the best CRM tools at their disposal? Are you all keenly aware of your customers' P&Ls? When was the last time you launched an on trend or winning product? Do you know how your company is trending in social media?
As a recent example, Apple – with all of the shrapnel they've taken about some of their products – is always, unfailingly, pushing the envelope forward. Though critics weren't happy about losing the headphone jack on the iPhone 7, the change allowed for a much faster phone and a much better experience. Post launch, customers are forgetting about the old headphone jack -- and the new phone is sold out.
Rock and Roll Lesson No. 2: Enthusiasm (or, the Love of the Game)
Why do multi-millionaire rockers still do the hard, hard work of rehearsing and going on tour, night after night, in a different city? They tour because they love it. Do your employees love working for you and your company? What's in it for them? Do they see opportunities to contribute and develop? Are they recognized when they go above and beyond?
Recognition for going above and beyond is a powerful force you can use to model the best behavior for all employees. It gives the company an emotional conscience, and deep-seated morale that can drive stronger results than for companies that do not practice this behavior.
Even better, specific process-driven, employee-focused initiatives -- such as annual employee Gallup surveys -- link employee progress to the company's success, and in turn, to leadership objectives. There is a saying that you can require employees to give 100 percent, but you have to ask them to give 200 percent. Are you asking and modeling the behavior that makes them want to say yes?
Rock and Roll Lesson No. 3: Adaptability
Rihanna continually adapts to her audience, which is why she is a perennial resident of the Billboard Hot 100. Is your company adapting to its changing environment? General Motors, the staid, almost-bankrupt company that lost touch with its customers and the quality of its products, just launched the Bolt, a mass-produced, mass-priced, electric car with the greatest range of any electric -- even beating the $100,000 Tesla. Tesla is getting the ink, but General Motors adapted to its market with a first-mover product, changing its old behaviors in the process.
Continuous learning, enthusiasm for what you do every day, and adaptability are the difference between making your company a one-hit wonder and a lasting superstar, with "hits" every year. As the CEO, it is up to you to model the continuous learning, create enthusiasm among your employees by paying systematic attention to employee engagement, and making sure you and your team are paying attention to the market – "looking around the next corner" to make sure your company is positioned for the long term.