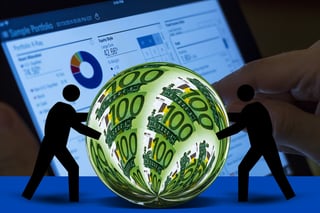 The time has come to hire your first Chief Marketing Officer. You've decided what kind of CMO you should hire, and gathered your list of important questions to ask during the interview, but the question still remains: How much do you pay them?
Marketing approaches have changed, and are now more balanced. A CMO joining today's progressive marketing teams will look different than CMOs of the past, replacing traditional skills like direct mail and PR with for example digital A/B testing and inbound marketing skills.
Rita Scroggin with the Triad Group adds, "The market is good right now for the right CMO. Marketing leaders who can drive measurable results and revenue are more sought after than the traditional CMO, who is more versed in brand awareness and messaging."
How do you know how much to pay such a vital role in the success of your company? Especially if you're a startup, or have just reached the point of being able to hire someone solely dedicated to your company's marketing function - how do you know what's reasonable? Plus, given that marketing is not always so "measurable," how much of the compensation could be variable?
Since you're focused on hiring your first CMO, chances are your company is still growing fast and you might prefer to pay part of the compensation as equity. In this compensation structure, the CMO receives a percentage of the company, with a starting average of 0.5% on the low end, and 2% for a seasoned professional. Depending on other functions the CMO is responsible for, or how large your company becomes, the amount could vary significantly, causing disparity (there's a huge difference between 1% and 5% of a large dollar company), so utilize the percentage-based model carefully.
The graph from Payscale, Inc, provides some hard numbers to help you determine a good starting salary when hiring your first CMO.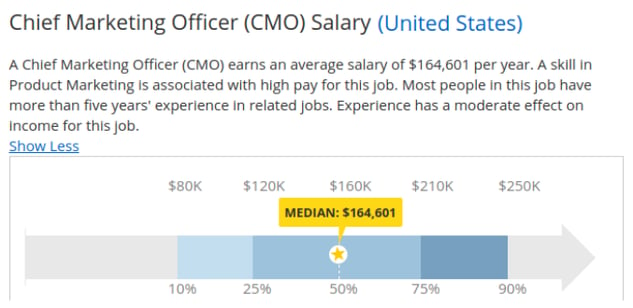 Smaller firms or startups will likely focus on entry-level marketing leads (less than 5 years experience) to fill their first CMO role. Large companies will be well into the mid-range on income and experience (8-10 years), and CMOs in Fortune 500 companies can make up to seven figures.
According to the Bureau of Labor Statistics, there is little difference in annual median salaries between industries (except for a slightly higher income for CMOs in the financial industry), and almost 25% of professionals with a lead marketing title are concentrated in the software and networking industry.
Nationwide, average CMO income differs per city. As expected, San Francisco is a bit higher than Seattle, with a base pay averaging between 190k-250k vs. Seattle's 170-200k. Equity is variable as well, with San Francisco coming in at an average of 1.5%, and Seattle slightly lower than that. Whether or not bonuses are included in the package varies, but it's easier for a CMO to negotiate a good bonus if they can tie it to measurable marketing outcomes/revenue.
Research conducted by the CMO Council adds to the data: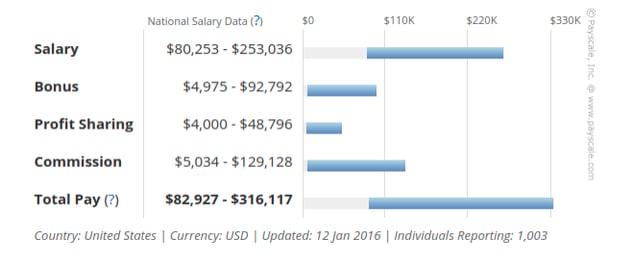  85% of CMOs receive a bonus, 30% receive stock options, and a smaller 7% earn a commission.

 There is no correlation between the marketing lead's title, (Marketing VP, SVP, Chief Marketing Officer, etc), and how much money they make.

 In contrast, CMOs who report directly to the CEO are shown to make the most money.

 Only 48% of CMOs feel they are compensated fairly.

A quality CMO is a key function in any startup, and your new CMO will play an essential role in your company's success, both strategically and through short term execution. Hiring a good marketing person is important, and knowing the right compensation to offer is a vital first step.