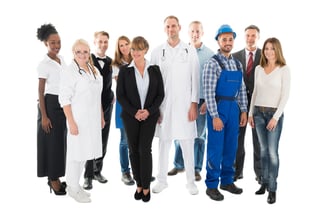 What's wrong with learning from others who are not like us? You can "borrow" or in consultant-speak, maybe "re-purpose" or "leverage," best practices from industries which are more advanced than your own.
My simple premise is this: we can all get too insular within our businesses and industries and miss the opportunity to take advantage of best practices from industries outside our normal field of view.
Here's the typical exchange when we provide a business with insights about their own business, their customers, and their competitors:
CEO: This is great information. We've never had a comprehensive set of insights before.
CMO: Glad you are happy with the results. Do you have any questions?
CEO: Sure, now that we know how we are doing, how does we compare with our competitors and industry benchmarks?
CMO: Excellent questions, let's look at comparisons with your direct competitors and your industry.
Here are two additional questions that should be asked...
CEO: How are we doing, compared to best-in-class companies?
CEO: What industries are ahead of us, and what can we learn and leverage from them?
It's great to ask how you are doing, of course. But transformational change can be prompted by understanding that it is likely that other companies are ahead of you, and that they might offer lessons learned to help you move faster while avoiding risks. In the words of Satchel Paige: "Never look back, something might be gaining on you." On a higher level, other industries might be ahead of yours, too, and offer the potential for transformational learning.
A MINI-CASE EXAMPLE ABOUT DIGITAL SUPPORT FOR CUSTOMER EXPERIENCES: HEALTHCARE "BORROWING" FROM FINANCIAL SERVICES
Several years ago, a healthcare provider asked for my support in developing a multi-year telehealth and mobile health strategy and plan. Many times, clients ask for someone with deep industry experience in their industries. This client went another route. They specifically wanted support from someone who had financial services experience, as they correctly identified financial services as being 10-15 years ahead of healthcare in the adoption of digital technologies used to service and improve client (or patient) experiences.
The healthcare provider knew their industry intimately, and another brain with the same expertise as their brains wasn't going to be as helpful as someone who had industry experience in an industry which was many years advanced in the use of digital technologies to improve client/patient experiences.
Isn't it interesting that some healthcare providers no longer are referring to "patients," but are starting to adopt different language, like "clients," in describing them, too? That's just symptomatic, though, to use their language.
Let's take a deeper look at how financial services evolved their approaches to customer interactions using digital technology, and then make a direct comparison to healthcare as an example of how to leverage best practices.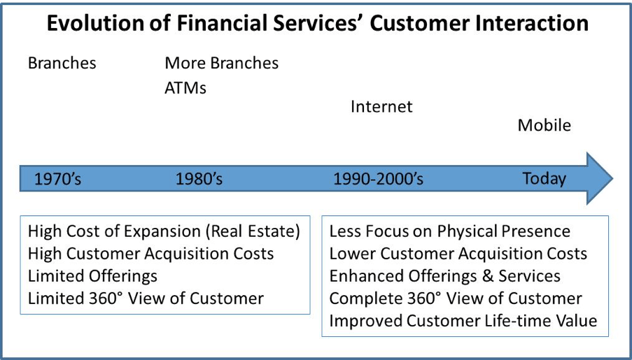 Traditionally, when healthcare providers look at business development, they are typically focused on adding new clinics in locations where they don't have a presence to expand their reach and to penetrate more rural areas. The dynamics and financial results aren't good, though, as every clinic that is farther from the mothership, means that medical personnel (like specialists) have to travel farther and are less productive. The more travel they undertake, the lower their job satisfaction is. The farther away from the mothership new clinics are located means that they likely operate at lower margins. And new clinics don't come inexpensively, either.
What about re-thinking business development in healthcare using a financial services approach?
Healthcare providers and financial services firms have similar goals:
- Improve operational performance (measured by process improvements, productivity, costs)
- Improve patient/client outcomes (measured by health, share of wallet, share of services offered)
- Improve patient/client experiences (measured by satisfaction and loyalty).
Healthcare providers could more aggressively adopt digital technology the same way it has been successfully adopted in financial services. Here's an example of how it could work, which is similar to the way financial institutions are managing remote customers today and offering services such as mobile check deposits.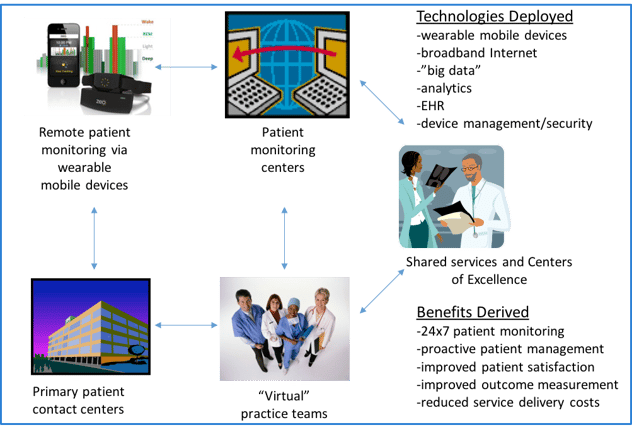 Adopting best practices from another industry are a form of Return on Learning (ROL). If you missed an earlier blog on that subject, you can still read it here.
The advantages of looking outside of your industry for best practices are many, including the ability to go faster, leverage proven technologies, avoid risks, and create space between your business and your competitors.
Is it time to look outside your business for some best practices and new marketing ideas? From what industries might you borrow?
This article is part of a series where I share practical experience learned over 25 years as a Marketing executive. I'm happy to engage with you if you want to expand on these ideas—and especially if you have a need, or know a company that does.
Author

Mark Coronna is a Midwest-based CMO with Chief Outsiders, specializing in Growth Acceleration, Marketing Strategy & Alignment, Digital Transformation, and Integrated Marketing. Contact Mark at 612.554.0081 or MCoronna@ChiefOutsiders.com.