A CEO's practical guide and marketing plan template
This is Part 1 of a two-part series. Part 2 will discuss the go-to-market plan and provide a go-to-market plan template.
Marketing is a broad term. In fact, I saw a blog post that listed 72 definitions for the term. Not surprising, there are also many interpretations of a marketing plan and go-to-market plan.
There is a difference between a marketing plan and go-to-market plan. To get started with the topic, let's use the following definitions:
Marketing – how a company creates value, builds strong relationships and captures value in return.
Marketing strategy - the marketing rationale that a company uses to create customer value and achieve profitable relationships.
Marketing plan – the plan that provides the strategy and details of how to achieve the business' strategic objectives.
Go-to-market plan – a subset of the marketing plan that provides the details of how to approach a new market or launch a new offer (e.g. product, service, brand, pricing model).
The Marketing Plan
A marketing plan supports the business strategy and business objectives. It must also align with the company values. For example, L.L. Bean believes in selling good merchandise at a reasonable profit and treating customers like human beings. If one of the business objectives was to increase profitability by 2%, the marketing strategies put forth in the marketing plan should not recommend significant price hikes or cutting back on customer support.
Marketing Plan Template
For purposes of this outline, a product refers to product, service or brand. The outline can be adapted to any industry and does not include all possible categories (there is no one size fits all). In terms of length, think quality over quantity. I have seen good one-page marketing plans as well as good 50+ page plans.
Keep in mind that it is a tool and shared across the company. It should not require so much effort that it is avoided and/or not implemented. Lastly, it should be agile and updated as feedback is received.
1. Executive Summary – Short summary of main goals and recommendations so that leadership/management team can get a quick idea of the key points.
2. Current Situation – Overview of the market
Market description – What is the market? Who is the market? What are the trends?
Environment – What is happening at a macro level and a micro level? What is the potential impact to the business?
Product review – Include information about offers, sales, gross margin and stage of product lifecycle.
Competitive review – Discuss both direct and indirect competitors. Include a SWOT of main competitors along with their market position, sales, pricing, distribution, marketing strategy and marketing programs.
Channel and logistics review – Include sales team, partners, ecommerce, referrals and delivery systems.
3. SWOT – Perform an assessment of your company's strengths, weaknesses, opportunities, and threats. Take the basic SWOT analysis one step further to make it actionable. Use this tool to help determine the best strategies based on your strengths and opportunities.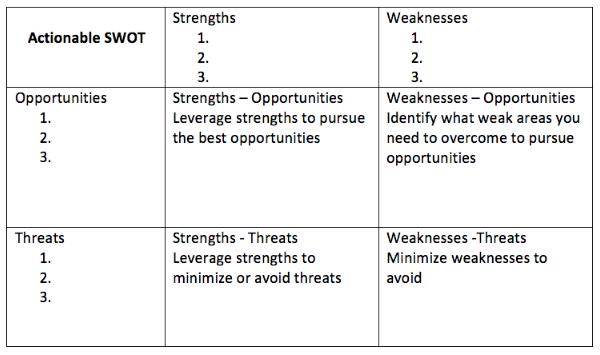 4. Objectives and Issues - Present the marketing objectives for the period covered in the plan and address issues that could impact reaching the objectives. What is the plan supporting? For example, the marketing objectives could be to capture additional 5% market share or increase sales units by 10%.
5. Marketing Strategy – This is the rationale of how your company plans to engage customers, deliver value, create strong relationships and attain the business and marketing objectives.
Positioning – What makes you distinctive in the mind of a customer? Would your customer agree?
Value proposition – Why would someone buy from you vs. a competitor?
Product Strategy – What is the roadmap (or future plan) for the product?
Pricing – What is the pricing strategy (e.g. economy, luxury) and should it be revised?
Distribution – What channels are used to move the product through the supply chain? Are there improvements or new channel opportunities?
Marketing Communication Strategy

Lead generation/Sales – Identify the programs that will be used to generate sales and/or leads for sales teams.
PR - How will you share news, get mentions and build credibility?
Online and Offline – What types of programs, tools and resources do you need to reach objectives? This can include advertising, content, and sponsorships.

Mobile - This should be part of any communications strategy. It is called out here because it is such an important communication channel.
4. Events – What trade shows, conferences and other events will contribute to reaching the objectives?
g. Market Research – This is important as ongoing research to understand your customers and market is critical. This will help you monitor and be aware of the perception (what is being said) about you the in the market.
6. Action programs – The details to turn the strategies into a calendar of programs.
7. Financials / Budget – The costs of all related programs including anticipated sales, revenue and costs of all marketing related activities.
8. Controls – The metrics you will use to measure results.
Part 2 discusses the details of a go-to-market plan along with a template.
If you have other outlines, areas to include or comments, please share. What other types of resources do you find helpful to be successful?