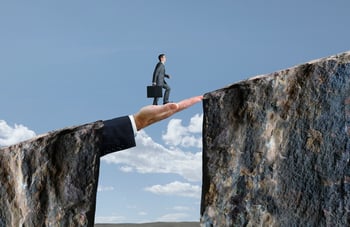 What do I mean by marketing playing both halves? Is my sports mindedness coming through? Maybe! I tend to make comparisons to sports only because it's easier to provide contexts. For the sake of illustration, in the context of marketing's engagement with prospects and customers, assume that the first half covers all of the steps required to identify and convert prospects into customers. When marketing and sales people speak of the funnel and buying stages, it's generally about first half focus and performance. The second half covers the rest of the story. That is, once a prospect becomes a customer, how do we as marketers engage with them? If we're talking about a B2B customer, the halves are generally asymmetrical, where the second half is much longer than the first. Have you ever heard a marathoner say that the halfway point in a marathon is mile 20? The point is that the bulk of energy expended and the benefits accrued, happens after the customer buys. Yes, we have Customer Success organizations popping up, especially in Software as a Service (SaaS) companies, and many are quite capable and successful in reducing churn and providing great support when customers need it. But, I'd argue that in many, if not most companies, the role of marketing resembles a cameo appearance in the second half. We're not seeing the developed customer advocacy that leads to even higher revenue growth and valuations.
Marketers often speak about brand equity. It's maximized when playing both halves really well. It's a non-tangible asset. Accountants don't book a value for it. In other words, there isn't an asset itemized on the balance sheet called "Brand". Yet the value associated with brand can be significant and any potential acquirer will need to pay for it. For example, Pepsi might have a book value of $6.1B but have a market value that exceeds $90B. It would be itemized on a term sheet, assuming it were ever for sell, as Goodwill. This value, although hard to calculate precisely, represents, in broad terms the present value of perceived differentiation of your brand over other brands in the market. And that perceived value is built through trust throughout the life of the customer's ownership experience, not just up to the point they purchase. And obviously reality should equate or exceed the positive pre-purchase perceptions.
If marketing works with Customer Success, post the purchase, brand equity and revenue can grow substantially higher. Success in the second half, directly influences the number of leads and sales cycles for new prospective customers. Power in the market, as characterized by a positive ownership experience for current customers, fuels positive performance metrics, including sales cycle acceleration, converting new prospective buyers over to customers faster.
Let me play this back, because it's important. Real power is earned through real authentic encounters and relationships with your customers. No lead source is more powerful than referrals. Having customers share their positive experiences that align what you said what you'd do for them with what you actually did will create more leads and accelerate sales cycles.
The role of Customer Success is naturally to delight customers once they've purchased the product. This could mean providing great support in assuring that the customer is successful with the product. Enter Marketing. If the CMO and VP of Customer Success were both focused on being hyper diligent in delighting customers with fact based content and support that generate customer success faster, and providing an easy means for satisfied customers to communicate success stories and network and with other customers, there stands a pretty good chance that referrals, which again, are like gold, would increase significantly. And what better way to fine tune content, developed from real customer experiences, served to prospective buyers?
Imagine marketing listening in on calls with customers in distress or truly happy, and pitching in, in a non-transactional sense, to earn the customer's loyalty. A world where Marketing quickly shapes new content that aids in new customer acquisition. The content is powerful because it's been battle tested. Nothing is more powerful then when the customer feels so supported and successful with the product that they unaided, tell someone else about the experience. The time and effort devoted by marketing to creatively team with Customer Success is probably small in comparison to realizing the gains of a referral lead source boost. Perhaps more marketing budget should be allocated towards Customer Success, with the cost of customer acquisition during the first half falls precipitously.
Think about the evolving role of marketing. I once had a mentor tell me that it was marketing's role to get closer to customers and shorten the sales cycle. When I first heard this, my focus was on first half tactics- marketing to prospects, not current customers. My enhanced charter is to help shorten sales cycles by staying close to the customer throughout their relationship with the company. While funnels associated metrics will remain important, the funnel process will feed into another series of flows and metrics transitioning from the "buyer's journey" to the "customer's journey" and repeat itself. The focus is on "delighting" customers to the point where they want to be advocates and providing them with platforms in collaboration with Customer Success to voice honest impressions. Proper execution will lead to higher brand equity and revenue, and increase the percent of business coming through referrals, driving down the cost of customer acquisition, not to mention sales cycles. Looks like a great second half to me.