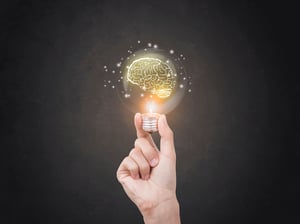 The role science is playing in transforming leadership skills is profound. Recent neuroscience research is becoming key in transforming much of what we thought we knew about leadership. Insights gained are dramatically changing the way companies deal with the accelerated pace of change, changing nature of work, generational differences, demands for organizational performance and how we deal with performance issues and performance management systems.
Recently the Wall Street Journal featured two articles addressing this emergent paradigm shift in talent management (The Trouble with Grading Employees and The Inner Workings of the Executive Brain). These articles addressed the reasons why many organizations are moving away from rating-based systems and annual performance reviews. For more information about this emerging trend and the field of NeuroLeadership Integral Performance has published an ebook which can be downloaded from Amazon for $0.99 via this link: Performance Edge eBook
In lieu of traditional annual review and rating processes, many of our clients and other large scale international organizations are moving to a model of "brain based employee coaching". Companies are beginning to manage with recent findings about the brain keeping recent and surprising findings about the brain in mind with a high degree of success in shaping culture and elevating performance.
This evolving field of study was coined NeuroLeadership by Dr. David Rock of the NeuroLeadership Institute (an Alliance Partner of Integral Performance). Dr Rock was one of the first researchers to provide solutions for organizations based on science to improve performance. Via insights from the neuroscience research we are now able to facilitate learning and create a learning mindset key to sustaining high performance. His groundbreaking work incorporated in our work with clients dramatically improves both individual performance. It provides a powerful access to manage diversity and deal effectively with the different views of work which Millennials and other generations now entering the workforce possess.
Dr. Anna Tavis, founding partner of GlobalPlus.org, has stated:
"Science is a powerful engine behind the transformation taking place in our corporate organizations. Whenever organizations consider a change they now can refer to the scientific drivers to rationalize their decisions."
Integral Performance has found that accelerating leadership capabilities results in shaping cultures suited for today's challenges. Using cutting edge findings in neuroscience, systems theory, social psychology, ontology and other related disciplines are producing organizational transformations and solving even the most intractable problems.
Over the past 11 years, Integral Performance has been studying some of the best performing organizations in the world to determine what has them perform above most other companies. In our research and in collaboration with thought leaders throughout the world, a model based in science is rapidly emerging. This model is having dramatic impact in accelerating leadership, shaping culture and elevating performance to meet the challenges of today with some of the largest corporations in the world.
Some fundamental principles in a NeuroLeadership model are:
Ongoing research into the incredible human brain will continue to provide insight into how to maximize Human Capital and will for many years. We have only touched the tip of the iceberg in what's possible so that our organizations remain agile and equipped to deal with the uncertain futures most are facing.
Author
This is a guest post written by Jerry Dackerman, CEO of Integral Performance.