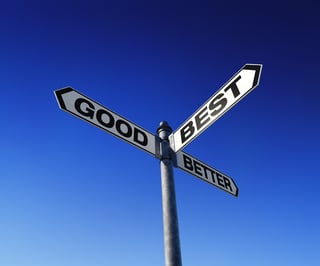 For those of you with that delightful glass-and-aluminum slab in your pocket known as the iPhone, take it out of your pocket right now (of course, if you are reading this on your iDevice, it's already in your hand).
Gaze upon it. Admire its curves, its fit and finish, the styling, the technology.
Back when it launched a decade ago, the iPhone was a disruptive, yet crude, innovation. A curvy, blocky thing with a small screen, slow and expensive – yet offering a tantalizing point of view. What if, we pondered, the functionality of your big lurking PC could be miniaturized so it could be held in the palm of your hand.
This was it – a REINVENTION of the phone. Now, years later, the iPhone, to the chagrin of some, has become an example of OPTIMIZATION. It really IS a computer in the palm of your hand. But, every year, rather than morphing into the "next big thing," it's tweaked or adjusted in a bid to gradually improve the product over time. One year it's lighter, the next year the screen is enlarged a bit, then force touch is added, then confetti showers with every text. Better and better, but, maybe not as compelling. Both REINVENTION and OPTIMIZATION have been important to the iPhone, first as a disruptor, and then in refining the idea to perfection.
So, Mr. CEO -- what is the focus of your company – OPTIMIZATION or REINVENTION? Do you favor steady, relentless improvement year after year, or do you, every so often, try to change the rules of the game? Of course, there is a third option – neither. You decide to operate well by keeping the "machine" going, but don't ever really get anywhere.
Companies that desire to grow need to crack the code – employing a formula that includes both OPTIMIZATION and REINVENTION, depending on the point in the enterprise's life cycle. Sure, it's difficult to do either one of them, and doubly hard to do both, given the pressures of day-to-day business. But without them, you'll likely stagnate.
"Longevity is the capacity to change, not to stay with what you got," said Lou Gerstner, who should know – he is a former CEO of computer giant IBM, and the man who rescued the failing company in the early 1990s by cracking the REINVENTION code.
By way of example, Starbucks was a revolution when it launched – increasing the price of coffee by 5X while also offering a great barista experience. Today, the ubiquitous company exists on every corner (and in some places, in MULTIPLE UNITS on a single corner). All the while, physical stores continue to wither and die: today, there is an estimated 10-year glut of retail space, and most retailers are either contracting store count or at least slowing the pace. In fact, no less than Walmart has announced a significant slowing in U.S. store growth.
Yet, Starbucks continues to usher hordes into its physical locations by deploying its own winning formula of REINVENTION and OPTIMIZATION. How? Well, Starbucks has figured out where the hockey puck is going, not where it is. It knows that the traditional retail store experience is dead; as a result, it is moving full speed ahead into digital. Don't like store lines? Pre-order your drink, and it will be ready for you as you arrive. Getting bored with the same drink every day? Don't worry, Starbucks is harnessing Big Data, CRM, and geo location to suggest new drinks, depending on time of day and where you are.
The end goal of Seattle's finest is to capture an ever-increasing share of its customer's requirements by making it easy, and delighting them with new experiences and choices. Starbucks is REINVENTING the experience to drive growth.
Kroger, in many ways, is the Starbucks of the grocery retailers. It runs some of the best and most profitable grocery stores in the country -- bright, modern, and convenient, with both premium and competitively priced items. It has figured out how to OPTIMIZE the grocery store concept better than any other operator. Yet here comes Amazon, now testing a store that essentially operates like a website – no checkouts, an automatic "basket" that tracks what items are in your physical cart, offering the ultimate great experience. Hopefully Kroger has its eyes open and is getting ready to REINVENT itself as well.
On the flip side, Sears, by contrast, is doing neither. It stayed with the same old locations as traffic moved away; tried cleaning up the stores and doing some token digital; but in the end it was the "old" Sears -- while the "new Amazon" stole customers away. Sears did not REINVENT or OPTIMIZE, and consumers are voting with their feet.
As a CEO, are you thinking hard about both OPTIMIZING and REINVENTING? If you are OPTIMIZING, have you removed every barrier to doing business with your customers? Have you been relentless in improving everyday execution – orders are perfect, shipments always on time, great selection is easy to choose, and, in the end, does the customer feel so good about doing business with you, that they would never switch to someone else? Have you simplified operating processes and manufacturing to gain scale leverage? Are your employees genuinely customer-centric?
If you are REINVENTING, have you thought hard about where your business ecosystem is going? Who else might be thinking of entering your space without the constraints of a legacy enterprise? Though you may be the best in breed, distribution channels are changing, and you may need to leverage your core competencies in a new space. Do you spend ANY serious time thinking about this, or are you letting the potential disruptors do the thinking?
OPTIMZING and REINVENTING – which is better? Neither. They are both essential to long-term growth and prosperity, both for your company and its employees.