Vistage CEO Confidence Index is Steady and Strong
Last quarter, and every quarter since 2003, Vistage International – the leading firm of Peer Advisory Board Groups for CEOs – fielded a survey of its CEO membership on their attitudes and perceptions around the prospects of growth. Dr. Richard Curtin of the University of Michigan analyzes the periodic study. As a business leader you may find it worth watching. Heck, look how predictive these attitudes are to changes in US GDP?


CEO Growth Confidence Hampered by Hiring
What caught my attention in these fresh Q2 2014 results is that CEOs are clearly seeing hiring challenges as a key factor limiting their growth. In fact, staffing is identified as the #1 "biggest challenge" facing CEOs now. As you can see from the graph, 57% report that they are unable to identify applicants with relevant skills and experience.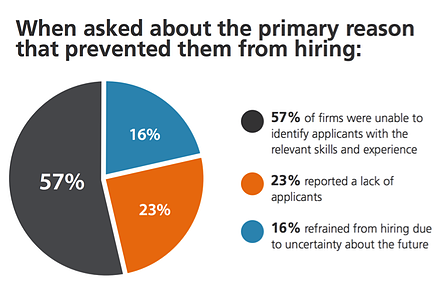 Managing Through the Talent Gap
Finding employees and executives with the right skills and experience is going to get harder. How will the best companies manage? Not surprisingly, it starts with the health of our businesses. The world's pundit of organizational health, Patrick Lencioni, points out in his masterpiece, "The Advantage," that the healthiest companies share the ability to clearly articulate their purpose, strategy and expectations continuously. This excellence in "clarity" – stating it, over-communicating it and living it – is the cornerstone to organizational health, retention and growth. Beyond Lencioni's wise words, what might we keep in mind to help directly address our talent shortfall? Here are three ways to fill the gap:
#1 – Hold 'Em - Not unlike the benefit of customer retention, the cost of acquiring new employees is clearly higher than keeping good employees happy and productive. While we're urgently working to fill open positions, remember our competitors are on the prowl to find top talent too. Now is the time to revisit compensation plans and career paths. At Chief Outsiders, we've just extended our entire compensation program to reward our top performers for customer retention and long-term business contribution.
#2 – Be Picky – Collins tells us to "get the right people on the bus," but what does that look like? The following 4-Dimensional Hiring Criteria is serving us well as we continue to ramp-up our nationwide firm (now serving 16 markets!). We use these four Cs for our criteria:
Credibility – Does the candidate's resume stand out? Does their LinkedIn profile demonstrate a career of progressive growth? At Chief Outsiders, we want to make sure it's consistent with the high-caliber CMOs we already have on our roster.
Capability – Is the candidate's experience a good fit for the job? At Chief Outsiders, we look for experience beyond the large enterprise, large budgets typical of Fortune 500 tenures for 'roll up your sleeves' experience more relevant to the mid-market and growth companies we serve.
Chemistry – Will the candidate fit into our culture? Is this a person our team will seek out to work with? At Chief Outsiders, we even include a writing assignment to help us, and the candidate, evaluate how their experience fits with our 7 core values.
Curiosity – How inquisitive is the candidate? This is a sign of both humility and a willingness to learn. Last year we hosted Charles Green, author of The Trusted Advisor via Skype at several of our regional meetings and asked him the #1 quality to look for in a top consultant. His answer: curiosity.
#3 – Hired Guns – While contract labor has always been an alternative to permanent hires, it wasn't until the late nineties that the idea of hiring fractional executives – specifically CFOs – became commonplace. Now, you can "rent" almost any executive position including Chief Marketing Officers, which is what we've built our business around. There are a number of reasons this might make sense for your business. See our discussion of Executives-as-a-Service for additional perspective. At Chief Outsiders, we use a fractional sales executive, contracted SEO, Hubspot expert, graphics designer, bookkeepers and over 30 CMOs for rent. I guess you could say we have a whole company full of fractional sharp shooters!
In conclusion, the overall business outlook is strong, but keeping and acquiring the talent our businesses need is getting tougher. If we want to continue to grow and take advantage of the market opportunities before us, we'll need to stay sharp and manage our talent better than ever before. How are you addressing this challenge? I'd love to hear from you.
"How can CEOs address the talent shortfall? Here are 3 ways" (Tweet this)