---
"I feel very good about the strategy. I never would have made it happen without Sandy's help. The value of bringing in Chief Outsiders was tremendous."

Rich Bernius, CEO, Forensic Analytical Crime Lab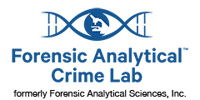 Forensic Analytical Sciences, Inc. prides itself on solving complex criminal and civil cases. When CEO, Rich Bernius decided to take the business to the next level, he engaged Chief Outsiders, CMO, Sandy Barger to help refine his marketing strategy and develop a detailed marketing plan. Together, they rebranded the company, articulated a clear point of difference, and devised marketing tactics to increase awareness. Effective tools and a new internal marketing associate have put FACL on the road to 15% annual growth.
Background
Difficult and Complex Cases
Forensic Analytical Sciences, Inc., now Forensic Analytical Crime Lab (FACL), is particularly proud of its reputation for solving difficult and complex cases. Its multidisciplinary team of scientists in pathology, neuropathology, DNA analysis, and criminalistics have worked on hundreds of criminal and civil cases with significant impact, including helping to exonerate over 50 falsely convicted individuals.
After 30 Years and steady revenues, FACL realized it would need to grow to say competitive in a business with increasing capital requirements. "We really didn't have much for marketing," related Rich Bernius, CEO. "We were purely word-of-mouth and customer reputation-based."
Seeking to Grow
Bernius wanted to grow the company and felt it was the right time. "To do that, I needed to improve and do some real marketing," Bernius offered. "That's a bit of a challenge for forensic specialists, who are scientists."
Bernius was looking specifically for help to develop a marketing plan. "While I had an idea of what I wanted strategically, I didn't know how best to make it happen tactically. I knew that I was not in the loop regarding current marketing best practices."
He also wanted to know what level marketing employee he needed and how to affordably execute up-to-date, ongoing marketing.
Chief Outsiders
After seeing 20% growth at a sister company that had engaged a Chief Outsiders CMO, Bernius thought the fractional CMO concept worth pursuing.
"I was looking for somebody to help me figure out both what's the plan and how to put it into motion," explained Bernius. "I was comfortable that Chief Outsiders could do that."
The sister company provided a solid recommendation for Chief Outsiders and CMO, Sandy Barger. "I liked Sandy's background and work history," offered Bernius. "I felt that there was experience and ability there that was going to help me figure out best practices and have the confidence to enact the changes."
Growth Strategy
Worked Remotely
Barger collaborated with FACL remotely from Southern California. Early on, activities included a one to two-hour call once a week to review progress and gather information. Barger would ask Bernius questions and then work independently to conduct research and refine strategy.
"I found Sandy to be very easy to work with," related Bernius. "I felt like she did a good job asking questions and learning who we are and what we do before she moved into making any judgements for presentation."
Flexible and Cooperative
Bernius also felt that Barger listened well. "Sometimes I was in complete agreement with a recommendation or logical jump and other times not," explained Bernius. "She was always willing to go back to the drawing board or recalibrate her thoughts. Sometimes she'd press me and sometimes back off."
He considered it to be a smooth and comfortable working relationship. "We were creating thoughts and ideas with a common goal," he added. "Her agenda was my agenda."
More Competitive
Both agreed that the company needed to be more competitive with a new growth strategy and communications to be more relevant for the current market.
Barger performed research and analyses to develop insight for the new strategy including:
Conversations with key lab personnel
Client interviews to determine the crime lab's strengths, weakness and opportunities
Competitive Analysis
Market Analysis to determine which segments and categories to pursue
Barger proposed changing the brand name, but Bernius was hesitant. "Sandy clearly laid out the rationale and had some logos inexpensively made up to help push me and my team along," related Bernius. "That was just fantastic."
Differentiated Brand Identity
Working together they developed and executed a strategic plan to establish a clearly differentiated brand identity for the crime lab.
Rebranded Forensic Analytical Sciences, Inc. to Forensic Analytical Crime Lab
Developed unique and compelling positioning: "The Crime Lab for Complex Cases"
Expanded the target market
Narrowed focus to three core disciplines representing 58% of forensic sciences
Developed consistent, clear and concise messaging
"FACL had to define its unique story to be a key player in the changing landscape," explained Barger. "We had to establish its identity and focus on the product line."
"It was critical to have Sandy's help to brand our competitive advantage and make changes that support the brand image," added Bernius.
Increase Awareness and Engagement
To implement the strategy, they developed a marketing plan to increase awareness in the industry and engagement among current and new targets. The plan called for:
An updated website
Email marketing and customer relationship management
Digital marketing, including videos, SEO, directory listings and digital advertising
Thought leadership through participation in events and continuing education
Partnerships with directories and trade associations
Job requirements and Responsibilities Defined
Once Bernius was confident in the strategy and marketing plan, Barger helped him find someone to assume day-to-day marketing responsibilities. She designed a full-time position that included both marketing and non-marketing responsibilities to overcome the difficulty of finding a part-time marketing employee.
"She helped me hire a marketing associate who's going to be fantastic," related Bernius.
To wrap up the three-month engagement, Barger identified next steps for Bernius and the new marketing associate. She remains available to answer questions and review issues when necessary.
Growth Results
A Strategy and Plan for Growth
Working together, Bernius and Barger rebranded Forensic Analytical Sciences Inc. to Forensic Analytical Crime Lab with a clear point of difference. They created a marketing plan with key tactics defined so the plan could be clearly understood and executed. .
The FACL strategy and execution plan anticipates 15% annual revenue growth. The execution of the initial tactics provides FACL with the tools to continue marketing initiatives to meet that objective.
"It's all coming together," related Bernius. "I feel really good about the strategy and have a lot of confidence in the marketing plan."
"The strategy enables FACL to be a player in an industry that's getting more competitive," added Barger. "Any company that's had steady numbers and is starting to see a slight decline needs to understand and define their brand story and product value to be relevant in changing market conditions."
Excellent Value
"I'm usually anti-consultant," Bernius offered. "In this case, it was clean and crisp, and it never felt like Sandy was trying to lock herself into working with us forever. It was more like, "How can I help you set this up so you don't need me anymore?"
"Was I nervous going in as to how much value was I going to get? Yeah," he added. "But, it made a big difference to have someone who has the experience and is really good at what they do. The value we received is tremendous!"
Confident Leadership
Barger's expertise and the Chief Outsiders partnership enabled Bernius to make decisions confidently. "The biggest value was having a partner who was willing to hold my hand in certain places and challenged me at every step to be more aggressive and willing to change," he related.
"Bottom line, Chief Outsiders helped us create an effective branding strategy and started us on the road toward executing it successfully," he concluded.