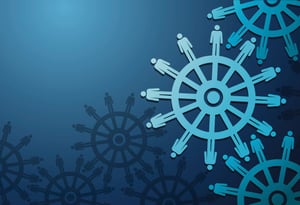 Referring to Chief Outsiders as a staffing company is quite descriptive. After all, they've placed CMOs into over 600 companies. With an increasing number of these placements in Private Equity portfolio companies. These CMOs join client executive management teams and immediately assume the roles of the marketing leader. What's different from most placement firms is that these CMOs are fractional, and interim. They serve multiple companies at once, and are in and out of a business, having built their engine for growth, often in less than 12 months.
Know the Pulse of the Mid-Market
In the process of placing these fractional CMOs, Chief Outsiders has spoken to over 1,000 CEOs at growth and mid-sized companies in the past year alone. So, the firm has a well-informed perspective on what challenges businesses are facing today. And how to tackle them. This is one of the reasons Private Equity firms are tapping Chief Outsiders at an increasing rate, along with the firm's ability to place a perfectly suited CMO in days, not weeks or months.
Highly Effective, According to Assessments from the Hiring CEO
Here are additional key differences from staffing firms:
Chief Outsiders stick around to measure the effectiveness of their CMOs in each client's business
Their NPS (net promoter score) is 62, more than twice the 2017 national average of management consulting firms
On a 5-star scale, 97% of their CEO clients rank them a 4 or 5 Stars
Staffing firms typically measure whether their CMO placement sticks after a year. Chief Outsiders is measuring effectiveness in as little as 30-days.
Executives, Not Consultants
While many placement firms, agencies and single-shingle consultants promote the notion of providing CMO-quality personnel, few compare to Chief Outsiders' roster of senior marketing executives, most from the Fortune 1000. Comparing these CMOs to large consulting firm partners is also quite surprising. Their CEO clients find more value in a Chief Outsiders CMO because of their executive experience, as compared to a consultancy whose value is often based on methodologies and strategic direction alone. Chief Outsiders emphasis is on execution. Even more specifically, they see their mission as one of building the growth engine for their client companies. This notion of building an engine for growth aligns well with PE portfolio companies whose requirement to drive top-line growth is a key contributor to sustainable EBITDA and higher multiples at exit.
Piling On: Chief Outsiders Review Each Other's Work
Companies that end up with a Chief Outsiders CMO get one additional, and crazy benefit: The rest of Chief Outsiders tribe of CMOs. This comes to life when a CMO hosts a "peer review" of the challenges and proposed strategies for a client. A hand-selected body of additional CMOs, typically six to a dozen, assemble to critique, debate and collaborate on the client's situation. This not only brings tremendous value to the client company – adding significant value and reducing risks – it further builds the knowledge-base of the Chief Outsiders firm. That some might call the most experienced CMO staffing company in the world.
Yes, this is the firm we're building. The above message evolved out of a recent conversation with Kimberly Whitler, PhD, assistant professor at the Darden School of Business (UVA), and Forbes contributor who has published in Harvard Business Review and Sloan. She was taken with Chief Outsiders volume of CMO placements as well as our quality control process and commented, "Given the number of engagements you've completed, your depth of knowledge about CMO success rivals the top executive recruiting firms." Thanks Kim.