Achieving sustainable growth is hard, especially in difficult times. Many businesses find themselves ready for growth–but lack a clear roadmap. Using proven models and deep operational expertise, our on-demand Marketing Executives work fast, bringing fresh thinking and new ideas. Our experienced pros are pragmatic, optimistic and inclusive. We work respectfully with existing teams, creating plans you can count on to achieve meaningful growth.
Proven Growth Frameworks:
Fractional CMO Services
Our team of battle-tested executives have deep industry insights and expertise which allows them to quickly identify new opportunities and the operational savvy necessary to get things done. While others consult, our fractional CMOs work directly as part-time members of your team so you get executive experience and real results without the full-time cost. >>
Learn more about our Fractional CMO Services.
The Growth Gears
The Growth Gears is a proven model for unlocking growth. Based on research findings from a top university business school and their firm's work with hundreds of mid-sized companies, the co-principals of Chief Outsiders published
The Growth Gears™, an Amazon #1 Best Seller
. This widely recognized framework that defines a sequence and alignment methodology - Insight, Strategy, Execution - is both simple and powerful. It's the foundation of success of our growing client base. Learn how we can put Growth Gears to work for you.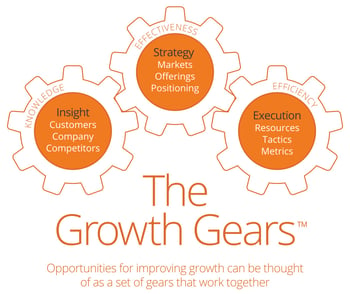 Quick-Start Programs
We're on the ground working with businesses to prepare for crisis recovery. Our CMOs are offering options to navigate your specific situation in your industry.
100 Day Growth Accelerator
The Chief Outsiders 100 Day Growth Accelerator is for CEOs of companies that need a rapid and agile process designed to help them take the critical next steps to identifying and prioritizing growth opportunities. Using a series of "Sprints" and existing company/market data and knowledge resident in the organization, your Chief Outsiders CMO will act as a guide, facilitator and instigator in driving your team to make critical decisions and develop the high-level plan necessary to accelerate your growth journey. It is designed to give you the roadmap and build the confidence and momentum you need to get in position to commit to activating a plan and make the marketing, sales and innovation investments required to achieve your ambitions.
Digital Transformation Assessment
The marketplace, including online, has shifted. Evaluating your current digital footprint and determining a way forward after the pandemic is critical. The Chief Outsiders Digital Transformation will help you determine where you are on the digital transformation journey. The full assessment will include a review of your web traffic, SEO, digital advertising, social media, website structure and content.
Customized Growth Advisory Sessions
Weekly advisory/coaching sessions via video conference help business leaders address a specific business challenge or hurdle. Chief Outsiders CMOs work with leaders to fully understand the challenge, offer guidance and help them plan for action. Leveraging best practices and proven models, a CMO will help the leader design, plan and implement an effective leadership response in critical times and unprecedented challenges.
Learn how we can help you accelerate your path to growth.
The Latest Thinking from Chief Outsiders
Our CMOs provide pertinent advice to grow your business in the rapidly evolving marketplace.
Ready to grow? Contact us