How to Select Your Fractional CMO
Step 1
Discovery Call
At your convenience, Chief Outsiders will set a time for you to share your unique challenges and opportunities for growth
Step 2
CMO Match
We help match your situation and requirements to one or more fractional CMOs, facilitating your selection to ensure you'll get the right expertise plus a good cultural fit
Step 3
Statement of Work
We develop a customized statement of work to achieve the desired outcomes with agreed to timeframes and costs
Step 4
Quick Start
Your CMO gets started in days, working month to month, without a long-term commitment
Company CEOs are faced with increasing pressures from all sides. When you need help growing, it's not always clear who you should turn to. You want the best but aren't sure if you can afford them. Plus, how do you know if the impact of your investment is a one-off or something that will last?
Fractional CMOs for Growth Today, and Tomorrow
What if you could instantly tap the talents of a world class executive growth expert? A CMO with decades of experience who knows how to attack the challenges in your industry and can start on Monday? What if this interim or fractional CMO could help you and your executive team define and build new ways to grow not only today, but well into the future?
Our Approach - The Growth Gears
™
Based on research findings from a top university business school and their firm's work with hundreds of mid-sized companies, the co-principals of Chief Outsiders published The Growth Gears™, now an Amazon #1 Best Seller. This widely recognized framework that defines a sequence and alignment methodology - Insight, Strategy, Execution - is both simple and powerful. It's the foundation of success at Chief Outsiders and their growing client base.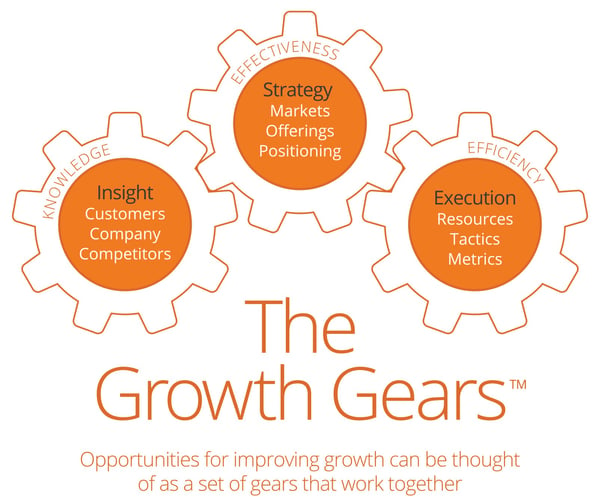 Proven Results
Having worked on the management teams of over 1,000 growth and mid-sized companies, Chief Outsiders fractional CMOs are known for making big things happen. That's why their Net Promoter ScoreTM is nearly three times the consulting industry average.