"In addition to her effectiveness in helping us grow the business, it was a genuine pleasure to work with Inga. She brought enormous personal energy and positivity to the assignment."
George Eberstadt, Owner/CEO, TurnTo
Since 2008, TurnTo's Q&A solution has connected online merchants and brands with customers. After developing related software solutions, the company sought outside assistance to strengthen its marketing function and create a clear brand strategy that encompassed the new products. Chief Outsider, Inga Broerman, re-built the marketing team, guiding them to develop messaging and a tactical plan to support TurnTo's new positioning as a solution suite provider. With expert direction and the right tools and technology, TurnTo is now positioned for rapid growth.
Business Background
Customer-generated Content
TurnTo is a fast-growing provider of customer-generated content (CGC) solutions to online merchants and brands, with a suite including Ratings & Reviews, Community Q&A, TurnTo's proprietary Checkout Chatter and Visual Reviews.
Built on an innovative platform that tightly integrates to stores' customer profiles, TurnTo delivers a personalized user experience that rapidly captures customer content, with minimal effort, while ensuring authenticity. eCommerce leaders like GNC, Saks, Newegg and Sur La Table rely on TurnTo for their customer-voice programs.
Shifting Product Strategy
With the development of a ratings and reviews module and the addition of the two other new products, TurnTo had shifted its product strategy to include new offerings but lacked a plan for integrating the products into the existing brand.
"They had a newly launched product that hadn't been fully integrated into the brand strategy," related Inga Broerman, Chief Outsiders, CMO. "TurnTo CEO, George Eberstadt needed to shift the message from that of a best-in-class single product to that of a platform and application suite."
To develop and then execute this new messaging strategy, TurnTo needed to expand the capabilities of its marketing team. So the challenge included organizational development.
Talent Dilemma
Eberstadt began to look for outside help to resolve TurnTo's marketing issues. The company had grown consistently, but Eberstadt felt stuck between not being ready to hire a big-company CMO and yet needing a high-level skillset to handle the company's growth.
"We wanted the level of talent that you typically find in a much bigger organization," he explained, "Plus, New York City is a challenging talent market."
Growth Strategy
The Chief Outsiders Solution
Eberstadt spoke with a colleague in a similar business in the New York City area when a solution to his dilemma surfaced. "I was describing my goals to get our marketing into gear and he suggested, based on his recent experience, that I try Chief Outsiders."
After contacting Chief Outsiders, Eberstadt reviewed resumes of the available CMO's and arranged a couple of interviews. "Inga Broerman came up from Washington D.C.," he related. "She seemed like a good option to get the experience and talent we were seeking. And, she turned out to be as experienced and talented as I had hoped."
Order and Direction
Once engaged, Broerman dedicated 50% of her time to TurnTo, riding the train from D.C. to spend one day each week on site and working one and a half days from her home office.
Meeting with the staff, Broerman began to assess the situation inside the company and also reached out to customers and competitors to evaluate the firm's existing position and strategy.
When in the office, Broerman also met regularly with Eberstadt to brainstorm, generate creative content, report progress and design processes. Her primary tasks included revising the company's messaging and building and training the marketing team.
"Inga started to bring some order and direction to the team we had in place," related Eberstadt. "And she was given the assignment of hiring two people to add to the team."
Suite Strategy
Broerman worked consistently for three months to train the new team and to revise the company's strategy to capitalize on the new product integration. "We worked through the process of how to position the portfolio," stated Broerman. "Then, we revamped the go-to-market strategy, and the tactical marketing plan."
The revised strategy called for new messaging to encompass an expanding product line, value proposition and vision, positioning TurnTo as a provider of a full suite of customer-generated content (CGC) solutions.
"We were going through a transition from being a one product company to a suite provider," added Eberstadt. "Inga was very helpful, creating the new messaging and story to support TurnTo's new positioning."
Execution
To get the expanded marketing staff up and running, Broerman spent a good portion of her time recruiting, hiring and training, smoothly adapting to the challenges that arose. "Problems and setbacks didn't faze her," related Eberstadt.
As the project progressed, she worked with the staff resources to implement the suite provider strategy and tactical plan she had developed.
TurnTo's new tactical marketing plan included a number of operational projects and improvements, including:
Outbound content, blog posts and sales materials with the new messaging
Procedures to clean, manage and grow the B2B industry database
Processes to manage and track new leads and avoid duplication
Architecture and messaging for a new website
New marketing infrastructure, including ParDot Marketing Automation
Marketing tools and advertising vehicles such as AdWords and LinkedIn ads
"She put in place the structure and provided the guidance the team needed," stated Eberstadt. "Having fulfilled that mission, we brought the leadership role she had designed for us in-house."
Growth Results
Revitalized Marketing Function
Broerman added purpose and discipline to the marketing function at TurnTo with the creation of a new marketing strategy and tactical plan supported by an expanded team and operations technology.
"Inga is a highly talented and capable marketing executive who knows her profession," stated Eberstadt. "Experienced, energetic and organized, she provided high quality work as a seasoned professional. It was a good cultural fit with our organization."
Reduced Cost for High-level Talent
Chief Outsiders provided TurnTo the opportunity to bring in a successful marketing executive, in terms of quality, insight and strategy, without having to rush a long-term commitment to a high-level resource.
"If your needs are to bring in some strong, seasoned talent at a higher level than you could recruit on a tight schedule, Chief Outsiders is a great way to access that talent! They are a strong resource and a cost-effective way to hire a CMO."
Positioned for Growth
TurnTo is now positioned for the next phase of rapid growth with a suite of products built around a successful core. Broerman artfully integrated the new products into the brand, transforming TurnTo into a suite provider with the direction, content and tools to execute the strategy.
"The combination of the procedures she put in place, improvements to the organization and the messaging that she helped us develop will build awareness in the marketplace, increase inbound leads and boost sales from the efforts of the sales team," stated Eberstadt.
"Bottom line, Chief Outsiders helped us through a difficult and important phase in our growth. The marketing function and positioning in the marketplace is stronger than when they came in," concluded Eberstadt.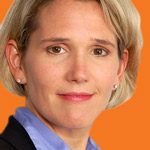 Contact Inga Broerman