Part One of this blog – for many of you – may seem like a mammoth hill to climb. For companies who have architected their CRM and booking platforms on top of decades-old technologies, it can be hard to divine a starting point to adopting a best-practices approach to win customer loyalty.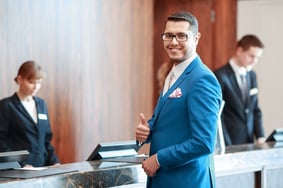 The great news, for those in the hospitality industry, is that our climb is not as steep as for other purveyors of consumer products and services (and for those of you whom have hung on hold with a certain cable TV provider or suffered the apathy of workers in the fast food industry, you understand what I mean).
Hospitality topped the list of industries considered to offer "very good" or "excellent" customer service, according to a recent poll by SurveyMonkey. You'll be relieved to know that government agencies – the favorite "whipping boy" of generations of fed-up consumers -- still resides in the caboose.
That same survey found that 97 percent of those happy customers will tell their friends, family or coworkers about the pleasure they've experienced – making such word-of-mouth, far and away, the most effective barker system for your hotels, resorts and airlines.
So, cultivating our customer's loyalty should be job No. 1 – because they are not just a key component of our promotional machine – they ARE the machine.
Fortunately, there are eight core principles that will help you gain your footing – understanding the "why" behind consumer decision-making today:
1. Understand Your "Why": This is the reason we, as marketers, exist – to understand consumer behaviors and needs, and to influence them. You've got to dive headfirst into that data that's languishing in your HQ, and give a fresh read to comment cards and review websites. It comes down to inspiration – why do they patronize you? What does it take to get them to sing your praises? Every company has a human purpose and the answer resides in that simple question -- why? When your employees understand why they are working for you; and your consumers understand why they buy your services. When they are aligned, then everyone's expectations are delivered -- and the values of customers and employees are aligned.
2. Make Your Website the Window to Your World: Whether accessed on a laptop, smartphone, tablet or IBM PCjr from 1982, your corporate internet presence must deliver on the promise of offering the best information and content on your products, flights, rooms and offerings. You can – and should – look at website analytics to see what sites and search engines are referring traffic to yours; and you must use this data to constantly improve. Today, 3-4 clicks to get to needed information is unacceptable. If I, the consumer, can get what I need in a click, you've just told me that you understand me. Geo-targeted websites are here now, and soon personalized websites for your loyal guests will be available without having to log in.
3. Engage in Lifecycle Nurturing: If you are reading this, you already aspire to use your powers to ensure that every consumer is a repeat patron. We need to be looking, holistically, at what we, and the consumer, expect out of a multi-year relationship. Once we understand this, we need to develop relevant information and content that inspires repeat patronage at just the right time – even messaging while the consumer is our guest. We want to be constantly improving their ability to choose, their check-in process, their visit and their departure – so that the memories they recall are nothing less than that of a phenomenal experience. Personalized relevant content at the right time is the mantra of the modern marketer.
4. Feed Your Evangelists: What are you doing to help your guests tell your story? There's absolutely nothing wrong with stimulating word-of-mouth – as long as it's authentic and not seen as a "bribe," per se. Soliciting your customers to help improve the overall experience is a great way to demonstrate your open attitude to change and betterment. Remember that it is hard to "sell" anything directly to the consumer today – so having your loyal guests sell you instead is significantly more effective.
5. Analyze Your Analytics: Data diving – the new glamorous aspect of our job as marketers – is an absolute necessity. Living in these numbers, and developing key performance indicators (KPIs) from them, will help us to have an "apples-to-apples" measure of whether our efforts to improve are actually moving the needle.
6. Motivate and Encourage: Once we identify our evangelists, we need to motivate them to be active. Bits of content are the fuel that fires this engine. We want to encourage guests to share pictures and posts of their experiences, easily and efficiently – this is the living and evolving testament to what is happening at your site right now, rather than a snapshot of how things were.
7. Fine-Tune Your Demand Generation Process: If we're going to spend money on cultivating our best consumers, we'd better be doing it in the right way. We want to know where they're finding out about you, what we're already paying to gain that exposure and conversion, and have a clear picture of what tactics are delivering the lowest costs per impression (CPI). Reverse engineering each tactic will help us develop a budget for future expenditures that is predictable – and effective. Wow, a budget that Is actually predictable? What C-suite dweller doesn't want to see that!
8. Product Innovation: Consumers, as we have already discussed, are fickle – we live in an ADD world and most are attracted to the next shiny object. Constant product innovation is required. What are their needs - really - and how are we evolving to accommodate those needs. These innovations need to be true to our "why" – ensuring they consistently deliver on our brand promise to our loyalists.
So, what do we need to do next to become a loyalty-cultivation expert? In the balance of our five-part series, we'll look at the proper balance of collecting consumer data; how to use all of the data at our disposal to create a better link between corporate HQ and our lodges and planes; and finally, how to invite the right people to the table to strategize and implement the right future-forward marketing programs.