A recent blog post on Forbes.com speaks to the fact that most big company CEOs are not active in Social Media. Among the Fortune 500 CEOs, only Rupert Murdock has ventured actively into this arena.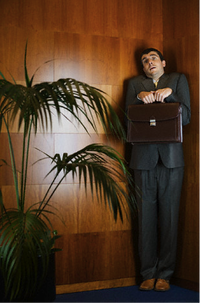 According to a just-released survey by Domo, the number of CEOs using LinkedIn, Facebook, or Twitter is only 30%, which is shockingly low given the benefits it provides — from helping a company get closer to its customers to serve them better, increasing employee engagement, as well as monitoring both positive and negative on-line commentary which may impact your brand / business. And for small businesses the usage of social media is a bit higher.
Why the Fear?
As a self-confessed "newbie" to Social Media, I too struggled with embracing it. In 2008, as the Senior Vice President of Marketing for Marcal, the social media world was changing rapidly. We just relaunched our flagship brand from a pure value play to one with a stronger positioning as Marcal Small Steps, the first national 100% recycled tissue brand.
I had a great team of talented marketers and agencies that were pushing to "Socialize" the brand, but with limited funding we didn't want to "waste" any dollars and the ROI on the investment was unknown. Justifying a large investment did not make business sense, so we decided to take "Small Steps" into this new arena.
We invested in a website to tell our story and begin a dialogue with our consumers. We then ventured our way into Facebook and Twitter, at a fairly low cost basis, and then created a monthly newsletter to stay in contact with our loyal followers.
One of the best things we did was hire a twenty-something "Brand Ambassador" who grew up in the social media world. She became the "voice" of the brand and helped to manage our social interactions under the guidance of the Brand Team.
So How Does a Small to Mid-Sized Company with Limited Resources Become More Social?
Identify a Clear Consistent Brand Strategy – Before you begin, it is important that you have a clear, relevant, competitive consumer benefit that is integrated into your brand communications. This typically consists of developing a Positioning Statement and Brand Footprint, which includes the brand personality and core values. This is the foundation for all of your communication strategies and tactics. Ensuring consistent communication will help build your brand's long-term brand equity.
Define your target market and how best to reach them. Knowing who you are trying to reach will help guide you on the specific on-line / social media to focus on.
Create a website that tells that your story. The primary focus is to communicate the brand's point of difference and begin a dialogue with your consumers. There are inexpensive on-line resources that enable you to quickly and easily set up a website at virtually no cost. Some brands forego the website and use Facebook as their primary vehicle for interacting with customers. For a more professional appearance and to build long-term equity, a website is recommended.
Expand your presence to include Facebook , Twitter and a monthly / quarterly e-newsletter. This allows you to create an on-going dialogue with your consumers and to encourage loyalty.
Consider hiring a "Brand Ambassador" – A brand ambassador embodies the brand image, personality, values and ethics in all social media communications / interactions. Hiring a twenty-something who has grown up in this space can help you get over the "fear" and help get you started. You will need to provide them with the strategic guidance, but once you are 'up and running,' they can help keep the communications flowing.
Whether you like it or not, your customers are doing research on line and making decisions based on what they see, or not see. By opting to NOT have a presence, you risk being invisible to prospective customers.
Take it from a "newbie," it's not that hard.