(But realizing a positive Return on Luck Is)
One of the many things I like about being a partner in the Chief Outsiders firm is how we constantly challenge each other to stay informed, hone our skills and provide the best insights to our clients. One way we do this is reading and discussing current business books at our periodic off-site team meetings.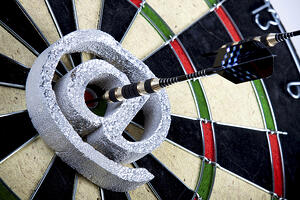 The book for our upcoming meeting is "Great by Choice" by Jim Collins and Morten Hansen. My partner, Pete Hayes, recently posted an article about how a good SMaC (Specific, Methodical and Consistent) recipe can help develop a brand. According to Collins, the great companies all have some form of recipe of specific, methodical and consistent do's and don'ts by which they make decisions and run the business.
Collins also spends a full chapter on luck. He defines it and analyzes whether great companies have better luck than the merely "good" comparison companies. You might be surprised to find out that the "great" companies in the study and their comparisons had statistically the same amount of good (and bad) luck events significant enough to affect the business. But how each company handled their luck events, both good and bad, contributed, sometimes dramatically, to future performance of the company. Collins describes the outcome of these events as Return on Luck (ROL).
Collins Defines a "Luck Event" as Having 3 Characteristics:
Some significant aspect of the event occurs largely or entirely independent of actions of the key actors in the enterprise,
The event has a potentially significant consequence (good or bad), and
The event has some element of unpredictability.
"Who Luck" – the luck of finding the right mentor, partner or teammate is one of the most important types of luck. A case in point took place for Amgen in 1981 when a scientist named Fu-Kuen answered an employment ad and was hired. Fu-Kuen went on the develop EPO, one of the first biotechnology drugs, which contributed significantly to Amgen's success in the 80's and 90's
Great companies don't wait for a lucky event, but they do everything possible to take any luck event, good or bad, and use it to their best advantage, thereby achieving a positive ROL. They are usually able to do this because they have a good SMaC recipe as well as good cash reserves and a strong set of systems and principles for operating the business.
To paraphrase Collins' last paragraph on the chapter on luck, the best leaders credit good luck for success only in retrospect and don't blame bad luck for failures – they hold themselves responsible.
Free to Choose
And to directly quote Collins' last paragraph of his concluding chapter, "We are not imprisoned by our circumstances…we are not imprisoned by the times in which we live, by the number of hours in a day or even the number of hours we are granted in our very short lives. In the end we can control only a tiny sliver of what happens to us. But even so, we are free to choose, free to become great by choice."
What do you do to control the destiny of your company – or your own life – in order to achieve a positive Return on Luck and your own personal version of greatness?