CEO study from major University business school finds two types of companies - and how they adopt best practices for growth
"So what we're saying is that dogs can become cats," repeated Dr. Leigh McAlister, a well-published marketing professor at The University of Texas, McCombs School of Business. We were reviewing the early findings from a mid-market CEO study that was quite thought provoking and encouraging. As it turns out "marketing" indeed makes a difference in driving growth. Even when you're not a marketing-oriented company. You can learn market-facing disciplines and reap the benefits in stronger growth. That's good news.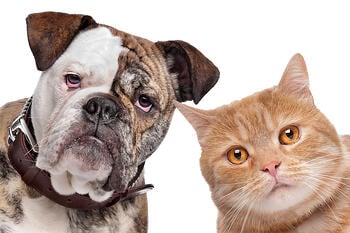 It all started a year ago when after reviewing the 2011 Chief Outsiders CEO Study, our firm of fractional CMOs realized the results were less than interesting. A suggestion was made: Tap the talent and credibility of a leading University. So we approached the UT business school's Center for Customer Insights and Marketing Solutions. Timing was good on two fronts: One, they were hungry for insights from companies that were smaller than their typical research targets (publicly traded businesses) and our firm, Chief Outsiders exists to specifically serve growth and mid-sized companies. Check. They also had a couple of associate professors eager to find new knowledge and share their findings through academic papers. So the combination of talent, passion and perspective looked like a good match. We were off.
Separating Cats from Dogs
After weeks of creating the survey instrument and months of fielding through online solicitations to CEOs, the UT Research Team analyzed the initial dataset. While the "linear" analysis was about as interesting as our prior year's CEO study (some companies are growing, others have a negative outlook, these businesses are increasing their marketing spending, etc.), when the team explored how clusters of companies answered questions similarly, they hit pay dirt. They discovered two distinct kinds of companies.
UT's cluster analysis indicated that businesses organize around one of two distinctly different orientations: Operations-oriented (55% – we're calling these dogs) and market-oriented (45% – we're calling these cats). And… it turns out market-oriented companies (cats) experience higher growth and are better at achieving measurable gains.
Yet, operations-oriented companies (dogs) grow faster than peers – when they have existing strengths in or develop strengths in marketing disciplines. Both types of firms see good growth opportunities, but the market-oriented firms are better able to translate those opportunities into growth.
Dogs Can Become Cats
So it's good news for operations-oriented companies, that they too can grow faster than their industry peers – if they adopt and exhibit strengths in market-oriented disciplines, specifically:
Establishing clear vision and mission
Market knowledge
Defining strategic goals
Executing plans aligned with goals
Communicating goals to employees, partners and customers
Creating compelling value propositions
Go-to-marketing planning based on strategic goals
Tracking marketing effectiveness
Are You a Dog or a Cat?
The real question is: Is your company a dog or a cat? The deciding criterion for the market-oriented cluster was that a marketing executive reports to the CEO. But perhaps you don't feel like your company is market-oriented. Clearly some CMOs struggle with a reduced scope or low organizational clout because they are working for an operations-oriented CEO (woof). In our experience with mid-market CEOs, where they don't have a marketing executive on staff (a VP of Sales and Marketing doesn't count), the CEO and the company often pigeonhole the role of marketing solely around lead generation. When we face these cases in our practice, we don't even talk to the CEO about "marketing." We talk about growth and how having greater market knowledge (customers, competitors, channels, …) and aligning the business and product strategies with these insights will drive decisions and behaviors that lead to growth.
Can't Relate to Dogs? Try the Demand Chain Approach
By virtue of our definition, dogs are more focused on operational efficiency than market insights and opportunities. One way we're positioning market-facing discussions with CEOs is by calling the entire category a Demand Chain. Since dogs typically are comfortable if not passionate about the operational disciplines of managing a supply chain, why not consider applying the same process orientation to the demand side? This seems to resonate. And when you consider how process-driven the marketing role has become – as evidenced by the IT we're deploying – it makes sense to "lean into" the idea of repeatable process optimization. So as we lead our companies (or in our case, our clients) not only as the market champion but as the champion for optimizing our demand chains, we position ourselves for greater relevance and appeal towards dog lovers, that is, operations-oriented businesses and the executive pack.
Conclusion – Dogs and Cats Living Together is a Good Thing
The notion of CMOs becoming more relevant and valuable within their businesses is playing out nicely as evidence by Forbes recent re-calibration of CMO tenure. Perhaps it's
a natural progression as businesses continue to adopt and embrace the plethora of technologies for touching, engaging and tracking customers and prospects…if not their entire market ecosystems. The value we're creating for our companies by establishing and continually improving market-facing processes is enormous and appears to be recognized.
We weren't surprised to learn that cats (market-oriented companies) grow faster than their industry peers. But we were thrilled to see that operations-oriented companies can gain these same growth benefits by developing marketing muscles. In truth, the dogs don't ever become cats. But they can become more agile and lighter on their feet, more responsive to their customers and quicker to take advantage of opportunities. So, the feline influence within a canine organization that excels at efficiency and process optimization can only be a good thing.