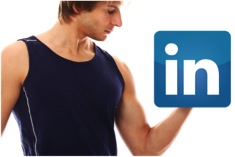 This is "social hygiene" month at Chief Outsiders. Yep. We're cleaning out closets and getting into better shape – starting with LinkedIn. If you follow our blogs and our firm, you know that we're not a social marketing company, even though we rank reasonably high in our use of the media. Yet we certainly know the advantages of staying fit online. More importantly, a healthy social footprint is strategic for our immediate and long term business goals, as it is for many of our clients.
Bring in the Trainers
With the help of a rising star and Austin-based agency, Social Factor, we set out to improve our presence on LinkedIn. Recognizing the strength of our firm is our CMOs, and as a result how accurately they are perceived, we started with an assessment of our personal profiles. Are they complete? Compelling? Are we fully active? Are we tapping all that LinkedIn has to offer in terms of merchandising our strengths and extensive executive marketing experience?
Many of us were shocked at the results of our initial audit. Social Factor developed an extensive scoring system – 35 criteria – to assure a rigorous assessment. Scores ranged from "0" (no mention of Chief Outsiders in profile) to "222" or 81% out of a possible 272 points. Our average was a wimpy 65% of the total possible. Ok. This is embarrassing for a marketing firm – especially when many of our profiles are in the top 1% viewership (according to LinkedIn's recognition program institute recently). Here are the general LinkedIn Profile categories that were evaluated:
Profile – Starting with your photo! Is it professional? Front-facing? Your full name, professional headline and location? Plus industry? Is your URL/direct link custom? How many connections to you have? Does your contact information include email, phone, Twitter handle, your business and related websites?
Background – Is there a complete and compelling summary? Is your resume of experience complete? Do you have references and recommendations for a mix of credible sources?
Associations – How many organizations are you associated with?
Skills to Education – Are your skills and expertise areas listed? Have they been endorsed? Do you list your educational background? Is it complete with dates, degrees, fields of study, activities and societies?
Interests and Followings – Do you share personal interests, how to connect with you? How many LinkedIn groups are you part of? How many companies and news groups are you following? What languages do you speak? Where have you been published? What honors and awards have you received, what causes and organizations are you volunteering to help?
We held a company-wide webinar where the Social Factor team took us through their findings, explaining their scoring methodology and making a compelling case for improvement. Then, one of Social Factor's "millennials" followed up with each CMO to provide a 30 minute personalized consultation for improvement. The feedback on this program has been extremely positive.
Game Ready
What might the benefits be for your company? Is it possible that your company's cohesion and culture is being evaluated by potential employees as well as customers based upon your presence on LinkedIn? Surely, there are growing occurrences of applicants and prospects searching for and reviewing LinkedIn company profiles and connected staff. What does your team look like individually or in aggregate? Perhaps there are simple and low cost opportunities to improve your presence, professionalism and…social hygiene. For Chief Outsiders, our social presence is highly strategic. So we'll continue to make the incremental investments required to assure we're in tip top shape.
For more information on Social Factor, visit www.socialfactor.com.