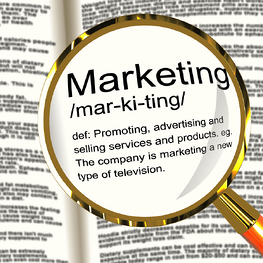 When we hear the word "audit," most of us skip a heartbeat and experience quickening of the pulse. Or perhaps even a chill runs down our spine.
This blog is about a different kind of audit. It is a lot less threatening, and almost always ends with you getting something positive out of it.
It's called Marketing Audit.
Instead of describing it, let me share an anecdote that happened recently. I was in San Francisco for teaching at Hult International Business School, and was invited to a business meeting in Mountain View (about 40 miles south of San Francisco) with a person who works out of her home. She asked me to meet her at a local Peet's Coffee & Tea off of El Camino Real that she frequents often and uses as her meeting place. In fact, she told me she was meeting her CPA there before our scheduled meeting.
But before I go too far, for the sake of readers outside of the San Francisco Bay Area, I need to digress and introduce Peet's. It's a chain of coffee shops, mostly in California, that tries very hard to not come across as a chain. It started in Berkeley, California in the 60's well before Starbucks and has stayed small ostensibly to keep its "local" image (in spite of the fact that it was acquired by a German conglomerate in 2012). And if you know anyone in the Bay Area, you already know that nearly all of the residents there have a certain loyalty to Peet's that is usually reserved only for local sports teams.
Now, back to my meeting at Peet's. On the day of the meeting, I got done in San Francisco sooner than expected and therefore decided to head towards Mountain View well before my appointment. Wanting to not appear "too eager" or as if I "didn't have much to do" or that I had any interest in overhearing the conversation between her and her CPA, I decided to hang out a Starbucks on the other side of El Camino Real – a mere quarter mile from Peet's.
This Starbucks was busy and humming. There were at least 10 people in line ahead of me, and during the 50 minutes I spent at this Starbucks, never did the line get much shorter than that. Knowing how Peet's is favored in the area, I was frankly surprised to see such a crowd at Starbucks. And soon, I became concerned. If Starbucks is this busy, Peet's must be even busier. Will we get a table to sit and chat? Will I even find parking close by? Will they make me my extra-hot-non-fat-one-Splenda latte as well as Starbucks usually does?
Anyhow, at the appointed time, I drove over to Peet's to find ample parking. And once inside, I noticed my fears were entirely misplaced. In fact, if anything, I should have been worrying about the business health of Peet's. It was about twice the size of Starbucks, but probably had less than 20% of the number of people I had just left behind at Starbucks.
As a student of business who makes a living analyzing business situations, my curiosity was piqued.
Once my meeting was done, I stayed on for another 15 minutes to make some additional observations. I also went back to Starbucks – in part, to get another latte for my drive back to Tahoe, but also to make a few more observations.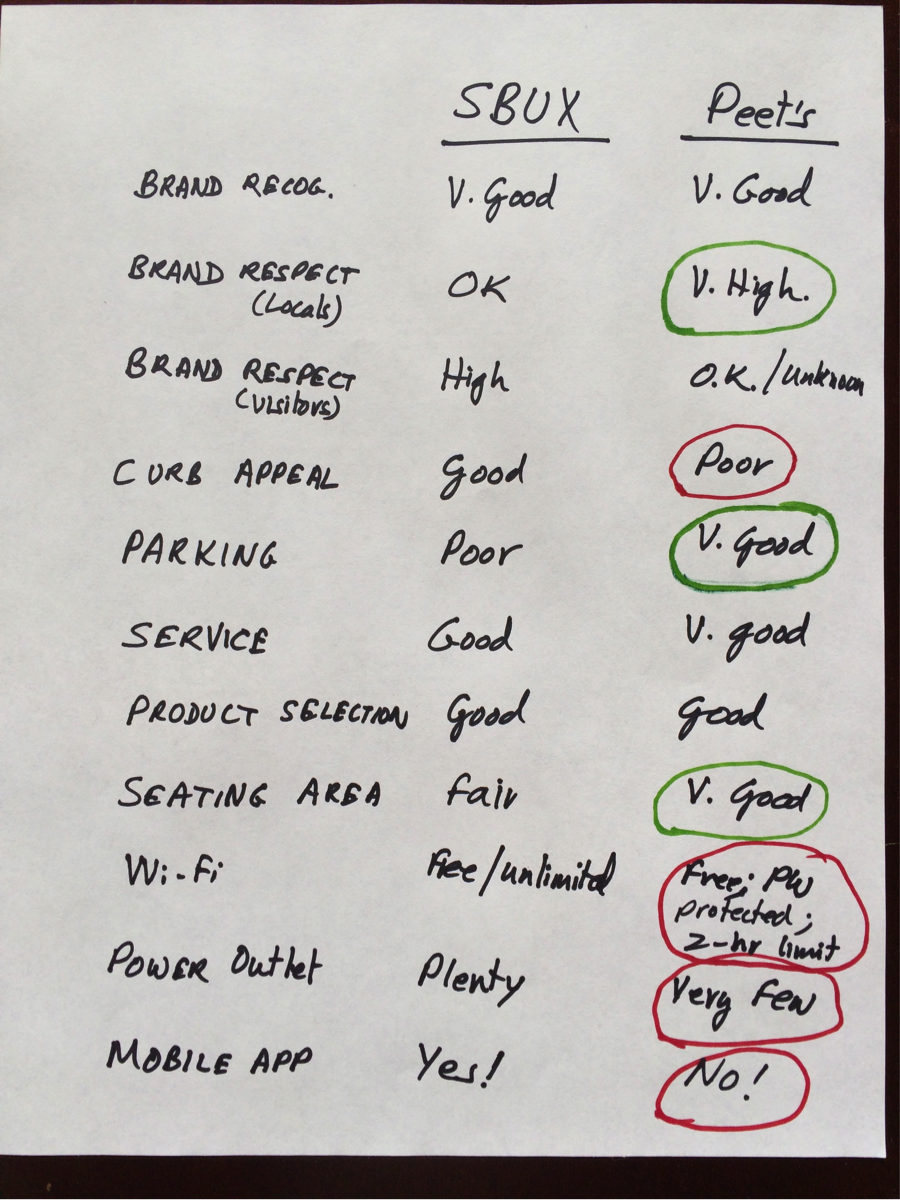 Now, every business has a right to stay small if that's what they want. But, given the real estate values and other costs in the Bay Area, I am willing to bet this Peet's would love to (and perhaps even need to) get a few more customers.
As you can see from my hand-written notes, a quick audit – the kind I did while spending my money consuming their lattes – can help identify key areas of strength as well as what might be needed to bring growth to business. In this case, Peet's clearly has a leg up in a few important aspects like parking, seating space and brand respect locals have for the company. That their business lags so much behind their competitor's in spite of these advantages must be due to their significant weakness in what have come to be accepted as modern-day necessities in a coffee shop. Good news is that most of those are relatively easy to do. As you can see, even a quick audit can reveal enough to get you started.
A full-fledged marketing audit (done over more than a couple of lattes) would include gaining customer and partner/channel insights as well as a cost/benefit analysis of any suggested changes. Pricing and margin analysis is an often-overlooked area that must be included in a marketing audit. For a retail business like Peet's, a marketing audit must also include review of recent advertising and promotions, as well as traffic flows and other customer draws that may exist in the neighborhood. Whether it's a B2C or B2B business, branding plays an important role, as does their (and competitors') participation in social media.
So next time you think of or hear the word "audit", let's make it a positive experience and do a "marketing audit" of your business!