Myth: "To maintain the integrity of my brand promise, the best approach to reach the Hispanic consumer is to simply translate the message and creative executions into Spanish. This way, there is no confusion."
Myth: "To connect with the Hispanic consumer, I may need to compromise what my brand stands for, so I can deliver on what they find relevant."
The above statements are not only incorrect and inadvisable, but they are also guaranteed to hurt your brand. Adapting your message and creative execution to another cultural group is a vastly different approach than simply translating a message. This outlook also compromises your brand and campaign integrity by forcing you and your team to create a less suitable type of communication for your intended audience.
The following facts about marketing to Hispanics today explain why these approaches won't help in engaging and capturing your ideal customer. I also illustrate how you can avoid such mistakes:
3 Truths About Marketing to a Hispanic Population—and Tactics for Success
1. As acculturation evolves, Hispanics consume media in both English and Spanish.
Since your audience will likely see your message in both languages, you don't need to assume your prospects will only be exposed to marketing collateral in Spanish. Take the below data about the San Francisco and Oakland, CA, market, for example. Over 65 percent of San Francisco and Oakland-based Hispanics are English-dominant across media language consumption. This media consumption pattern is very consistent across all Top 10 Hispanic markets in the United States, so having a strategy that incorporates a more even investment in Spanish and English media will build better awareness, consideration, and purchase intent.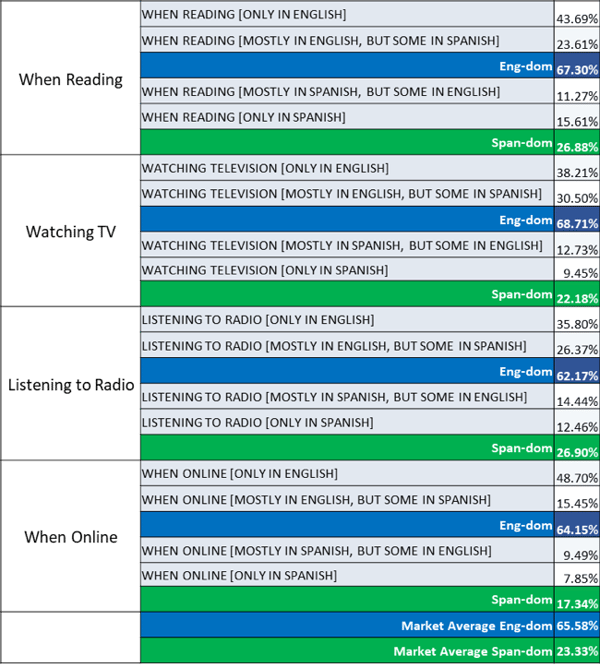 Source: 2017 Simmons Research LLC
2. When you understand your Hispanic target well, you will find a clear connection between your brand promise and their wants and needs.
If you invest time and internal resources into capturing insights about your customers' desires and expectations, there is no compromise necessary. When working with my clients, I often give the example of marketing a shelf-stable pudding. Who doesn't like the taste of pudding, no matter the language they speak? However, American and Hispanic moms may evaluate the quality of shelf-stable snacks in a different way.
For the American mom, the convenience of a shelf-stable snack with a high amount of calcium makes for a kid-friendly and nutritional choice.
For the Hispanic mom, it should be made with real milk, even if it's on the shelf.
In both cases, the brand promise delivers: The pudding is a great source of calcium, made with real milk, so there is no compromise for either family. Making these benefits clear for each type of audience will ensure they trust and purchase your brand's products.
3. When it comes to creative execution, adapt, don't translate!
Let data insights about your brand and consumer target guide you and your creative team. When Covered California Health Insurance launched its market entry in 2013 for both the general market and the Hispanic population, both campaigns focused on the message, "Welcome to Covered California"—but the execution of each focuses on target insights that are specifically powerful for Americans and Hispanics. Data gleaned by Covered California's media team helped them discover that signs are powerful forms of imagery for Americans, where doors opening are relevant and inspiring to a Hispanic audience.
View the General Market Ad here: https://youtu.be/97WvAIH6ER4
View the Hispanic Ad here: https://youtu.be/rOuyJLtUfOk
So, what does this all mean to you as the CEO of a company trying to grow your business in US markets with a strong Hispanic population?
Always rely on analytical insights: When you create data insight programs and social listening strategies that provide you with qualitative and quantitative information about your Hispanic target audience, you can better create a brand story and set of marketing messages that speak to their heart.
Plan your media carefully: Examine the reach and frequency of your marketing plans—and take into consideration how the Hispanic population consumes each media outlet. Be ready to take advantage of bilingual exposure, but don't over-buy it!
Don't be afraid of producing specific creatives for Hispanics: The investment in more than one form of media collateral for each marketing medium may take more time, but it will surely pay off. As a result of your efforts, you'll enjoy increased brand loyalty.
It's common for today's media teams to make the above mistakes when trying to reach and capture their Hispanic audience. Now that you know the truths about marketing to your Spanish-speaking customer, you can adjust your team's strategy to ensure your products are understood, enjoyed, and trusted.