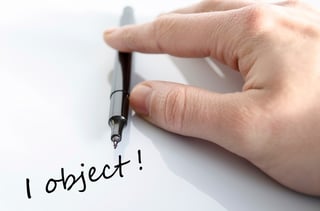 The face of sales has certainly changed, hasn't it? When I started my career, the best sales reps were traditionally hired by large companies, and trained to execute a strategic sales process, using a specific methodology. Like soldiers in a battalion, each sales rep knew their role, was aware of the various possible strategies, and was armed for each deal with the scripts and insights necessary to succeed.
Today, the prospect is looking for much more than a polished, canned sermon on your company's inherent greatness. Sales personnel now must learn be ready to tailor their approach for each individual client – reading sheaths of information, conducting detailed research – and hoping they can empathize with the prospects' pain as if it was their own.
And because 57 percent of the prospects you'll meet have already done their research before you come calling, you'll need to really up your game if you're going to properly elevate the vision – and successfully fend off objections to your pitch.
Objection handling is the true art of today's sales process. Mastery of this will ensure your responses are genuine, accurate, defensible, and highly relevant to the audience. Being prepared means you'll be able to match the technical capability of the person with whom you're speaking. You won't win over a businessperson with a bunch of technical jargon, just as you won't win over a highly technical buyer with a very high-level answer.
The Challenges Facing Today's Salesforce
The 2016 CSO Insights annual performance survey showed that only 54 percent of salespeople achieved their quota in 2015, down from 58 percent in 2014 – an alarming drop, when you consider that enterprises spent $56 billion in support of these prospecting efforts that apparently fell short. What's even more disconcerting? This was the fourth consecutive year that the survey noted a downward sales trend.
How will you circumnavigate these issues and grow your sales team and profits? Teaching your salespeople exactly how to execute effectively when facing an objection can yield immediate results in terms of pipeline development and close rates.
Objection handling consists of three key steps:
Step 1: Hear the objector out – completely. Never interrupt a prospect, ever. Objections rarely exist at the level in which they are stated, so it is important to understand what caused the prospect to object and to avoid premature problem-solving.
Step 2: Question and isolate the objection before you answer it. Once you hear them out, clarify the objection. Prospects will give you many objections - some of which are real, and some of which are perceived. Perceived objections indicate that the prospect has misunderstood the solution. Thus, it's important to first question and isolate the real objection, to make sure it's the real objection.
The most effective sales reps are those that can empathize with the client and illustrate that they were listening. One effective technique is to add a softening statement when facing an objection. For example, "Some of my best clients felt that way also," or "I completely understand how you feel, this is a big decision, and right now I'm sure it makes sense for you to think about this." Restating the objection shows the prospect that you really understand where he or she is coming from. Truly understanding a prospect is foundational to building trust.
For example, your response to an objection like, "the price is too high" may go something like this: "I understand, Mr. Smith. Can I you ask you a question? Assuming that the price for the services were not an issue, are you comfortable that this is the solution that is going to meet your needs?" At this point, it's really important to never give a discount without prequalifying that the solution is the correct one that will address their immediate needs.
Step Three: Address the Objection – Fully and Completely. Having clarified and identified the real objection, we now must answer and address the objection completely. This is where it becomes important to engage your company's subject mater experts (SMEs). Nobody is always good on their feet – and the use of the script can be critically beneficial in having the right information readily at hand, especially since the variety of objections are many, HubSpot says. After some time, the answers become automatic.
Master the art of the objection. To drive your sales team's productivity, have your sales leaders identify the top 10 objections that the salesforce faces. Then, engage marketing to work with SMEs to craft responses for each of those 10, and review with the sales team again. Then, during every sales meeting, test your sales reps on their ability to address critical objections, and you will become much more effective in front of your prospects - driving up your win rate and positively impacting your metrics for sales qualified leads.