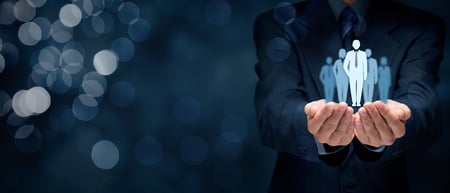 This is a guest post from Mark Rosenman of Newport Board Group.
There is a wide range of circumstances that lead companies to bring in a fractional CMO. The immediate need to strengthen marketing might be a response to an important development in the business: a growth spurt or a downturn, new capital or a change in management team or strategy. Some companies bring in a fractional CMO as part of an "asset light" business model that leans against bringing on permanent C-level executives at least for the foreseeable future.
From my perspective, one group of companies that looks to take on a fractional CMO is a special category: They are promising, high growth companies with an aspiration to innovate with technology and new business models, disrupt part of an industry or market and have a chance to generate real wealth for their investors. These companies are at the stage of company development known as No Man's Land, the framework described by our company Chair, Doug Tatum, in his classic business book of the same name.
High growth companies are a distinct sector of the U.S. economy. No Man's Land defines them as companies whose revenue grows on average at least 20% over a four-year period. At any one time there are about 350,000 of them. They are represented in all industries and across all geographical areas. Contrary to what is sometimes said, neither large corporations nor small, mom-and-pop operations create most of our economy's jobs. Emerging growth firms stimulate a disproportionate portion of job creation.
Founded by one or more entrepreneurs typically with friends and family funding, these are firms that have successfully gotten off the ground and had a period of initial rapid growth. It's been a heady ride at times. But growth has now hit a plateau. The company must reinvent itself if it is to become more than a one man or woman band. Their need to get past No Man's Land and grow to the next level is urgent: They are starting to compete against bigger, better funded firms that have mature infrastructure. Their markets and customers have gotten more complex. They may have new clients that require special attention. To better connect with their market, they may need to deploy digital marketing tools that they're unfamiliar with.
In a word, these gawky adolescent companies need to mature--fast. And bringing in a fractional CMO can be an important step in this direction. These companies' marketing programs are, like the rest of their operations, at a real transition point. The entrepreneur has likely been doing much of the sales themselves based on close relationships with a few key customers. As for marketing, much of it has been done on the fly. Marketing strategy—value proposition, brand, pricing, go to market strategy, channels etc.—is informal at best.
As important as what a company hopes to get from a fractional CMO, this move could represent something much larger—a first foray into building a management team. Identifying the right fractional CMO presents questions that will apply to bringing in other members of the senior management team. Will the founder/owner be willing to delegate enough authority to the fractional CMO to create a successful precedent to build an organization that institutionalizes his or her talents and commitment? Should the fractional CMO be someone who knows the company's industry well—or someone with a background in other industries who will bring new thinking. Should it be someone who the existing employees will be comfortable with—or someone who will shake things up?
Another key issue: will the fractional CMO experiment be successful enough to lead to bringing in a permanent full time CMO? It's a move that is full of opportunity-yet requires careful consideration due to the expense.
We thought this topic was important enough that we created an ebook about it: An 8 Step Checklist to Decide on Bringing In a Fractional CMO. It is available on our Web site.
For companies of this kind, Chief Outsiders and its fractional CMOs are present at the creation of what could be a new phase of the company's growth. The dreams of an entrepreneur and their backers may rest on the success of this experiment in building a management team.
--
Mark Rosenman is a co-founder and Chief Knowledge Officer of Newport Board Group, a national professional services firm of CEOs and senior executives that advises emerging and middle market companies.