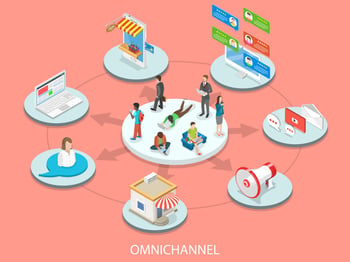 Journey with me back a few years, to a time when books were bought at a bookstore, clothing purchased at an apparel shop, and the concept of competitive shopping was limited to letting our fingers do the walking.
Today, consumers are fully – and indelibly – in control. Selling our stuff to this finicky lot requires a trip to their dimension – or we risk them not hearing us.
That's why today's CEO is being assaulted by entreaties to institute an omnichannel strategy as an essential piece of their competitive marketing plan.
On the surface, the idea seems simple: essentially stated, it is a means of doing business with your client or consumer where ever and whenever they want to. As long as we are flexible and adapt to their purchasing habits, we'll be OK – right?
Well, there is a long road between a simple sounding strategy – being where your customers are – and actually executing that strategy on the ground. One of the biggest obstacles tends to be your own company history. Companies like to stick to what they know. Often, a new strategy is announced with great fanfare -- but a closer look reveals it's not really omnichannel – it's more like tunnel vision.
What's at stake? Well, literally, your whole enterprise. In fact, one study found that companies with solid omnichannel marketing strategies are three times more likely to retain customers than those companies that are weak in this area.
Let's take an example. Macy's, the storied department store which has seen its business pummeled by direct-to-consumer web merchants like Amazon, and specialty retailers that use sophisticated targeting strategies to subvert the world that Macy's used to dominate. The on-trend, specialty retail products and apparel have historically been Macy's bread and butter. It was the source of their sales growth, and more critically, provided the profit margin needed to service the overhead of maintaining a national network of retail bricks and mortar stores.
Macy's has made a modest recovery in recent years, but only through what some would consider drastic measures: It reduced store count, shifted a chunk of its selling strategy to e-commerce, and made other changes to adapt to the new market realities. In fact, it has just launched an innovative product – an AI device to shop for furniture. You can walk into the furniture department of a Macy's store, put on the AI helmet – and see for your own eyes what the furniture in front of you would look like in your own home.
Great idea, right? Well, yes and no. Yes, it's a better experience, but it begs a fundamental question: Why is the experience focused only in-store, and not on the web? One reason might be that Macy's, for all its changes in recent years, is still deeply rooted in running bricks-and-mortar stores. Increasing in-store department traffic and dollar transaction sizes are key store metrics, and this new service will do just that. But, doesn't the real opportunity lie with the millions of waiting consumers who are poking at keyboards and smart screens? This is why what Macy's is doing here is really narrow-channel marketing. Why not focus both in-store and on web to build an experience accessible to its consumer, on their terms? Macy's still has a storied store culture, and that likely drives how they think.
Now let's look at the counterpoint with Amazon. Amazon is the ultimate killer app -- taking the world by storm, and in the process becoming the world's most valuable company (sorry Apple). Amazon offers the ultimate on-line experience with high selection, low cost, and zippy shipping. Some may feel it's not the easiest web site to navigate, but it's there whenever its customers want them. It's all stitched together with Amazon Prime, the ultimate loyalty program.
However, even Amazon, thoughtful as it is, realizes that even with its powerful business model, it is not truly omnichannel. Hence, it is moving to add retail stores. It is learning from its acquisition of Whole Foods that it's not just about making retail stores easy to use, as it has pioneered with their Amazon Go concept, but that it needs to create a unique, enriching experience in its stores. Whole Foods knows how to do that, and Amazon is taking the best from both – Amazon's experience in the e-merchant space, paired with Whole Foods in store experience so highly valued by "foodies" all over.
So, take a look at your business. Are you "talking" about doing business with your client or consumer where ever and whenever they want to, but in reality "executing" on a mono-channel basis – using the familiar channel you know and have used to grow your business for years? Step back and honestly ask yourself: "Do I have tunnel vision?" If the answer even is a tentative "yes," seek out people and resources that can help your company adapt, leveraging of course the strength -- and likely, profitability -- of your "home channel," but expanding into other spaces where you don't have a presence. Does this involve putting yourself out there and taking some risk? Absolutely. But risk can be managed -- by taking one step at a time, and metering financial investment as you go. The bigger risk, today, might actually be staying where you are, and as you do, watching your business get forced into channels where you are only a small, or non-existent player.
Get some help to do this. It's very common to know your current space, but not know the new channels. Take the time to focus on this, build a step-by-step plan to learn and gradually expand, and before long, you will be the omnichannel CHAMPION in your business. Your business, and your employees, will surely reap the rewards.