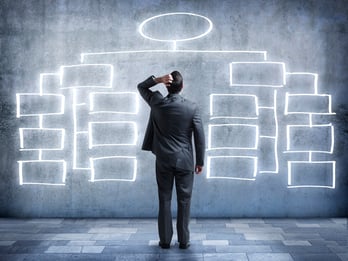 Growth strategy conversations have accelerated in boardrooms of mid-market organizations across America.
There's a growing recognition among CEOs that the people around the table may, in fact, may not be suited for the changes that have roiled today's marketplace. As technology has assaulted brick-and-mortar businesses; a savvy public has flipped the consideration funnel on its head. As competitive advantages between like companies have grown razor thin, the gap between corporate strategy and the traditional org chart has become ever wider.
No longer is it simply appropriate, for example, to hire an old-school Chief Marketing Officer to manage traditional go-to-marketing strategies and tactics, when nearly 70 percent of CEOs expect that role to lead revenue growth.
Nor is it a wise move to exchange "like for like" – simply hiring a replacement C-suite leader, without taking a closer look at what market forces, consumer trends, and the long-term business plan would require of the team.
As a growth consultant to CEOs, it has become apparent to me that it's time for companies to look at their organizational chart as an essential component of their business strategy. Through this lens, we can:
Get a better sense of whether we have identified the right job titles and responsibilities
Insure we have the right people for the job
Measure forward progress using the right tools and gatekeepers
The best way to gauge the situation at your enterprise is to take this simple top-line self-assessment. By asking these four questions, and understanding the answers associated with each, you'll gain a better sense of whether there's a growing misalignment of strategies and roles within your business – and what steps you'll need to take to correct the situation.
1) Do you have the right people on the bus?
This is the fundamental question to explore within your organization – beyond whether you have "good people" working for you, are they the talent who will execute on your growth strategies? Do you have a system for ranking your talent, based upon growth-related metrics? Are these individuals builders – meaning, are they equipped to go out and hunt with a growth mentality? Or are they maintainers – are they amazing at client relations, to ensure your retention rates stay consistent? Ideally, you'll want to develop a snapshot of what a model employee within each role looks like, and a blueprint for success. Given the emphasis on growth strategies today – for whomever you choose to join you on the bus, you ultimately, want people who know how to live out of abundance, rather than scarcity.
2) Does your organization chart demonstrate healthy accountability?
In seeking the answer to this question, you want to understand if we have the right people measuring the outcomes from their efforts. Have you designated gatekeepers who are in touch with both past results (number of clients, sales figures) as well as, how they are approaching your pipeline and funnel (client satisfaction, targeted prospects)? Do you have key performance indicators (KPIs) assigned appropriately across the org chart? Are you doing a good job of consolidating targets, so you can take advantage of cross-departmental collaboration? Are your leaders motivated by their role in fostering growth for the organization?
3) How does your org chart line up against that of your competition?
In looking at how your competitors have staffed their leadership team, be sure to gain an understanding about why it is the way it is. How does their org chart align with their unique market differentiation? What platforms are they using to execute on their go-to-market strategies? In particular, examine whether your chart – or that of your competitors – includes a spot for someone focused on research and client insights. In a contemporary, growth-focused organization, it's critical to have someone with the unique skills and training needed to analyze trends that can either hinder – or foster – future growth.
4) Does your org chart promote brand ambassadors?
Does your org chart – from top to bottom – facilitate opportunities for all associates to carry forth the positive attributes of your brand? Does your organization offer a mandate – and back it up with the proper permission, messaging, and tools, for everyone to lead the brand conversation? Are your brand activation strategies inclusive? This is where HR needs to ensure proper training across all departments and functions – recognizing that in today's market, employees ARE the brand, and to properly showcase the brand, they must be armed with the right tools to foster the company's growth aspirations.
In this dynamic marketplace, it's critical that you focus on creating a healthy and interactive org chart, to ensure you're executing on your growth strategy, while also ensuring you have the right employees, in the right roles, for the company's specific business arc. One final note: This type of exercise can often create some internal political pressure to maintain the status quo. That's why you might consider involving the expertise of a neutral, third party "Executive as a Service" – like those of us at Chief Outsiders. We can help you form a growth-oriented go-to-market strategy that helps you leverage your strengths.