"Find out what your customers want… and don't keep it from them." -- Don Rice, Professor Emeritus, Texas A&M
When deciding on the best moves to increase sales, finding out what customers want can be a valuable compass.
Problem is, customer surveys and requesting a Net Promoter Score (NPS) are the go-to method for lots of companies. One issue with these methods is low participation rates. Another is getting predictable answers to questions that are typically rooted in the status quo and don't/can't probe deeply into what matters most.
For example, one typical survey I saw in the last year asked about satisfaction (with the company's product quality, on-time delivery, etc.) and "What can we do better?"
The survey yielded shallow information such as:
"No quality issues right now"
"Our last equipment order arrived two weeks late"
"Your project manager Ben does a good job"
Survey responses can provide guidance for very incremental changes, but I find them nearly useless for discovering a more promising future through an improved, higher-value offering or messaging that really connects with prospects and customers.
And that's what most of our clients need.
Fortunately, there's a better way.
Qualitative, Voice of the Customer Interviews
Seeking insights deep enough to realign your company to a better future requires a personal interview conducted by a seasoned marketer that can probe beyond the first thing that pops into a prospect's or customer's mind.
From the survey example above, take the answer, "Our last order was two weeks late." That can be a great starting point for a discussion.
In an interview I can go deeper. I can ask about the impact that late arrival has on the customer's business, and learn that two weeks late means:
Two weeks of lost output and revenue. Two weeks is about 4% of a year's revenue.
The late arrival of production equipment means that the supply of consumer products from the machine is also pushed back two weeks. Now the client's customer, a retailer, has a supply gap that reduced their traffic and sales.
I could also probe for what happened that caused the delay, and see if process issues were at fault and explore how those could be corrected.
From probing the effect on my client's business and on their customers' businesses, I was able to understand how my client could quickly get into a position to outclass its competitors on performance dimensions that matter greatly to customers.
Now those are the insights that can make a major difference to the future of the company. Armed with that knowledge, the company can change its solution, how it communicates a stronger value proposition to the market, and how it prices.
How We Approach Voice of the Customer Interviews
The formula for gathering those insights is simple:
Interview non-customers as well as customers
Develop questions that draw out what matters most
Use an outside interviewer who listens closely for game-changing insights
Combine the findings with the company's inside knowledge
Develop new offerings and messaging and test them
Getting a skilled interviewer from outside the company is crucial. Thought I have the skills, I hired another pro several years back when I needed insight into executives' needs for help with their pricing. Since she brought an independent perspective as well as deep skills, she was able to unlock some insights that were crucial to deciding my offering. (Learning what NOT to offer clients was probably just as important to me as what I should offer.)
Insights: First of the Growth Gears
The research-based Growth Gears model developed by Chief Outsiders' Art Saxby and Pete Hayes lays out the necessary order of things. Insights have to drive the strategy, which then guides the tactics. Going right to lead generation tactics, some CEOs' instinct, can lead to random acts of marketing that aren't connected to where customers are under-served.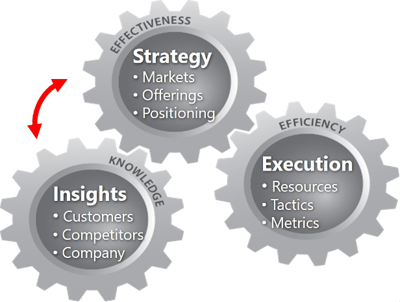 Insights are essential to defining a product/service solution offering or market positioning that lines up with what customers really want to buy. That builds a strong engine for revenue growth.
"Find out what customers want, and don't keep it from them."