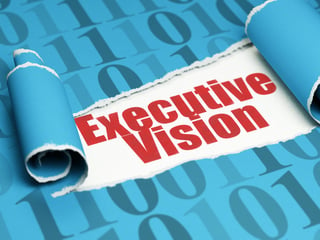 I recently watched a news story on photographer Vincent Laforet, who finds his best subjects at 8,000 feet in the air. In fact, the thrill seeker has spent several hundred hours of his career suspended in a harness at the edge of a helicopter, snapping beautiful aerial shots of bustling metropolises like New York and Las Vegas.
If you've ever been aboard a chopper or an airplane (and I'm sure you have), you know how enchanting the lights of your hometown or a bustling foreign city can be. Buildings, parks, and shores that were once impossible to view from the ground, are now plainly visible. Such overhead insight is almost magical, because it's rare.
Capturing moments at 8,000 feet? Now that's vision.
Imagine if you had that kind of view of your industry's marketplace, further informing the "ground view" you have inside your company and its sales and marketing department. This is not to say that your company can't have its own "vision" for culture and the brand's general path or growth strategy forward – that's important – but real insight, in the form of analytical data and qualitative feedback from your ideal customers and prime competitors, can provide real advantage. It can help you see what you don't otherwise see from the ground, providing a view of warning signals up ahead, as well as the first light of new potential pathways, product positioning strategies and segments for growth.
Envisioning through a Market-Based Perspective
Remember that your vision, no matter whether it manifests as a new product, service, pricing plan, or market segment, is not reliable in itself without your customers' acceptance and ultimate adoption of it. As Chief Outsiders' principals Art Saxby and Pete Hayes explain to us in The Growth Gears, executing with productivity and efficiency requires the right resources, tactics, and metrics – but ultimately, the definition of "right" (and your company's strategy implementation success) depends on what your customers think of them. In addition, evaluating and gathering insights about your competitors allows your company to gain a better view of what your target audience is interested in – and what market expansion strategies are being employed – from that future-forward, helicopter level.
Ready for real vision? External customer feedback can provide valuable insights you can use to develop and drive your growth strategy. You can also combine it with internal customer data and analytics (including results of product testing) to uncover revenue, pricing and profit opportunities that might otherwise be hidden in the noise of new products, non-comparable sales or seasonality. It's also essential for measuring customer satisfaction among your current customers, HelpScout says. Observing and analyzing competitor moves from a new vantage point can help inform your team's decision-making and influence your product roadmap.
Gathering Customer Feedback
Fortunately, our digitized world provides many options for customer feedback, including real-time feedback. This includes tactics like email, contact forms, surveys, usability tests, exploratory interviews, comment boxes, and social listening. Customer and client direct observation – whether as a customer buying your own product, or joining your sales executives on a sales call – can help you better see your company through the eyes of your customer. A myriad of feedback options at multiple levels of investment allow your company to reach as many customers and potential customers as possible – just as seamlessly as your marketing strategy can connect them to your products or services.
Real Vision Doesn't Mean Abandoning Yours
Your sales and marketing departments have great ideas for growth, which is an inspiring place to begin employing your "real vision" strategy. However, they absolutely must be tested for validity in such a complicated modern business environment.
Keep your team engaged and test your vision with confidence by employing customer, target audience, competitor feedback and data insights that can help you explore those ideas for strategic growth opportunities. Analytical data and customer feedback can help your company decide if it's reaching the right market, if your offerings are still relevant to the marketplace, and if you're positioning correctly.
With real vision as a way of life in your company, you can learn and adjust real-time to minimize risk and yet avoid the kind of analysis paralysis that results in missed opportunities for growth. With a clearer picture, you can keep moving forward while you continue to shape a customer-focused culture that will increase the productivity business for years to come.