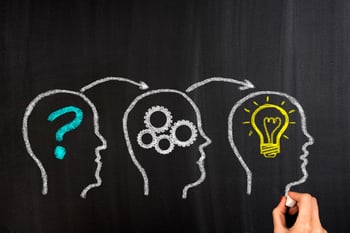 Today's technology and SaaS companies are naturally strategic and IT-savvy. Unlike more slow-paced industries, their approach of delivering results through lean and agile methodologies allows them to complete projects efficiently, while operating a competitive business in a crowded marketplace.
Though delivering useful products and helpful services is their expertise, creating a well-defined, growth-oriented marketing strategy can be more difficult for these enterprises than you would think. It's not their fault – the discipline of marketing has changed.
Many times, it's tempting for B2B organizations to hire a marketing agency to quickly toss out the "requisite" marketing tactics that are expected in their space – sales sheets, a spartan yet functional website, some search engine projects.
When I have had the chance to talk to CEOs of companies who go this route, they often express dissatisfaction with the results achieved. The first thing I always ask is, "Did you build a growth plan for your business, which they failed to activate?" Invariably, the answer is no. They merely outsourced their "marketing work" to the agency – and the agency came back looking for direction, which was never contemplated or developed by the CEO and senior leadership in the first place.
Since marketing firms almost always work in execution mode, they tend to look to their client for strategic direction. The confusion results when the tech and SaaS companies know they want to "do marketing," but are unsure about what their strategic direction really means.
There's no shame in the game – it's not uncommon for savvy organizations of all sizes and specialties to put the proverbial cart before the horse. It is a logical decision to call an agency when marketing is needed. However, starting a growth plan without having strategic insights first is like driving your car while blindfolded. If you don't know where you are going, you can't complete the steps required to arrive at your destination.
Marketing Agencies vs. the Fractional CMO
When an agency conducts insight work, it is concerned with an overall communication strategy and the transformational market messaging. In contrast, when a fractional CMO -- like those of us at Chief Outsiders -- completes their insight due diligence, they're focused on improving the company and aligning to outside marketing forces. An agency effort typically won't result in new pricing, channels, markets, customer segmentation programs, new products, new configurations or new features.
A CMO works to develop the business approach, including how to take a strategic price increase to fund your marketing investments. For example, take a look at my blog about how a small pricing change of 1% can affect the bottom line.
For many organizations, enlisting the help of a strategically focused CMO – even one that can work on a fractional basis – is just what is needed to glean marketing insights and create a meaningful strategy. Then, the company can use the data and insights they collect to establish a communication strategy in partnership with its agency. While fractional CMOs focus on building the growth engine based on the top line targets and vision of the CEO, agencies can use this information to bring to execute the plan.
Creating a High-Confidence Marketing Plan
If your team is interested in creating a high confidence marketing plan instead of relying on gut-instincts or assumptions to develop a strategic direction, you must start with the collection of market insights on your company, your clients and your competitors. Programs based on insights guarantee relevance in your market messaging. This body of knowledge is the foundation from which you can make useful decisions and formulate a coherent strategy.
Agencies thrive on executing well-defined plans based on such insights. Agencies often promise insights by doing some client calls and competitive benchmarking, but they don't, or can't, focus on the business strategy.
By starting in this manner, instead of ending up with a campaign plan, you'll be empowered with a real go-to-market plan, neatly overlaid with your business strategy, designed to grow the company through targeting of the market, its offerings, and your unique positioning.
Once the strategy is defined and the executive team is aligned, the focus can then moves toward execution – a stage at which an agency is invaluable. At this point, it is essential to find and keep the right metrics, tactics, and resources (fractional, outsourced, and freelance) in place.
How Fractional CMOs Define Business Strategy
There are many ways fractional CMOs can help you define your business strategy. For example, take a look at this a routine exercise for finding the least risky way to grow a business. This is a customer value mapping exercise. In this exercise, you segment your customers into those with growth potential and customer size, and they develop strategies for each group: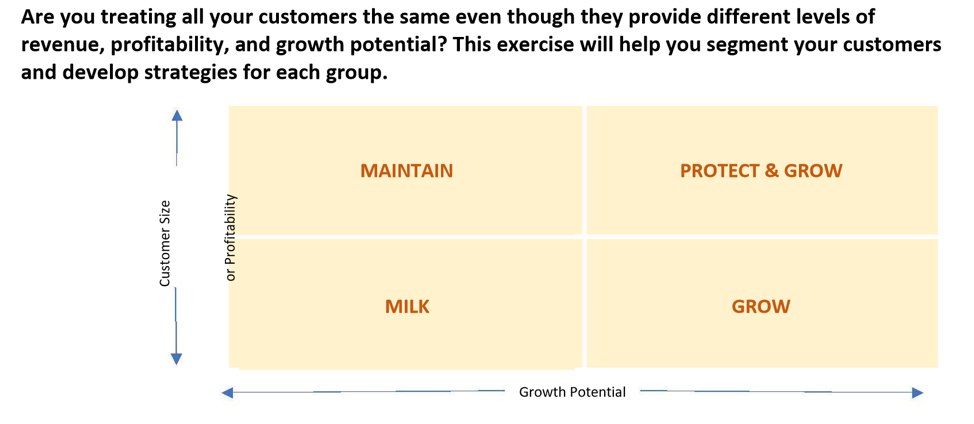 The strategies can be built on the strengths of your company as established through a SWOT analysis, which you then activate – another critical input to any insight-driven strategy.
Cementing your business foundation in place with useful insights and a workable strategy will allow an agency to be most efficient and effective. It forms the most precise direction on where we are going and how to avoid costly errors. This enables your enterprise to stay on the right course, unblindfolded.
After all, you wouldn't drive a car blindfolded, would you? Let our fractional CMOs provide you with clarity about your growth challenges. Ask us for a free consultation.