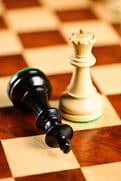 If there's one thing that has been constant in the history of America, it's the spirit of exploration. From Lewis and Clark to Dora the Explorer, our tales of wanderlust have been well-chronicled and have led to great advancements in science, medicine – and business.
If you think that's a heady legacy to live up to, you're right. However, as responsible business stewards, the need to grow and expand is what fuels our passion to seek new markets for our business.
As you consider whether the time is right to expand your company into new markets – either geographically or by customer type – ponder this. According to a study by KPMG, 90 percent of U.S. business executives involved with business development and corporate strategy have seen revenues increase from high growth and emerging markets. This is a sure sign that a broader expansion will open our business up to a world of new possibilities – and financial rewards.

Like with any business objective we undertake, planning is the key to ensuring that these bold steps into new frontiers are the RIGHT steps.
Some thoughts to consider in determining whether you are ready to enter new markets:
Do your homework. You need to make certain that you have a complete picture of your expectations and what it takes to succeed in the new space. You must understand how buyers in this new market buy, what they need, what other options are available to them and how they think. It will most likely be a departure from how you are connecting with your existing customer base, so you need to be prepared for the unknown and to do some things differently than you have before.
Understand the competition. You really need to gain an understanding of the rules of engagement with others who already inhabit the space. You want to understand how they sell and how they will likely react to your entry into their market. You also need to consider how you will react to their reactions.

Most importantly, how will you differentiate and provide a more enticing value proposition than others already in the space.
Don't spread yourself too thin. Let's not bite off more than you can chew at the start. Consider a phased entry into the new market, and make sure you're not trying to do too much, too fast.
Have not only the goal in mind, but also relevant metrics along the way. Know beforehand what "success" looks like in this new market and the plan to get there. You need to be able to gauge your progress along the way and make adjustments when necessary. Always think about the next step before taking it.
Over-communicate. Your new constituents may not know who you are, or, if they do, what they know may not be the best way to be positioned in this new space. It's critical that you leverage the full power of your tools in sales, marketing, customer service and with partners to ensure your entry into this market is clearly defined and explained. And don't forget your internal team.

Making sure everyone is on the same page regarding branding, messaging, approach and target customer fit is a critical and often overlooked step.
What are your thoughts about positioning your business for a new market?