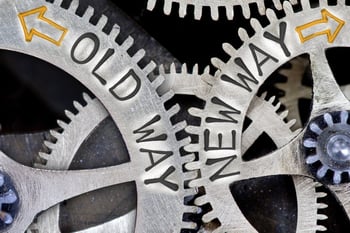 "An improvement of less than two-tenths of a percent in converting online prospects to customers increased revenues by $5 million."
(From a recent Chief Outsiders engagement summary)
I'm only a student of online marketing, not a master. In recent weeks, I spent time with colleagues who ARE masters of online marketing and eCommerce.
I've seen how they work carefully on conversion — increasing the percentage of people who respond at each point in the progression from Aware, to Interested, to Engaged, to Buying, and Repeat Buying. Improved conversion often comes from discovering which offer, wording and graphic design make it easiest for prospects to "get" why the offer might be for them.
Below is an example of a very simple conversion map. (This one is for a pre-recorded educational program I marketed online a while back).

In an online environment, customer responses at each stage are typically quite measurable. A seller can test different offers and messages, see how prospects respond, and do more of what works. That data makes it easier to increase conversion online than it is offline.
Let's say, though, that your company's website plays a role in attracting and informing B2B prospects—but your transactions are done offline in the traditional ways. You can still increase prospects' and customers' receptivity to what you offer them and increase your company's conversion rate. Assess where you are losing prospects that could have easily said yes.
If you're like many companies, it could be for two reasons.
Two Ways to Lose B2B Prospects
The sales force "pitches" before doing discovery. We've all experienced it, whether in business or our personal lives. It's the sales person who jumps right into telling a prospect about their firm, their solutions, the benefits, testimonials, etc. (Mea culpa: I can remember doing this myself before learning not to!) Or he or she jumps right to "Let me give you a quote / proposal." It's understandable. With enthusiasm about what they offer, and a sales number to meet or beat, they seemingly can't help but jump right into the pitch. This approach serves neither party very well, and leaves hidden the value that the seller offers to the prospect.
The sales force isn't equipped with great messaging after After developing a good understanding of the prospect's goals, needs and priorities, it is then appropriate to communicate crisply how your firm can help. If the salesperson is not ready with language that'll resonate, well-suited prospects can drop off the conversion path.
Two Tips for Increasing Offline Conversion
Listen first. In his book "Ditch the Pitch," Steve Yastrow draws lessons from the great improv performers he's known in Chicago. Rather than a preplanned pitch, he advises improvisational communications. That calls for close listening. Persuasive communications, he says, requires "Paying attention—the ideas will come to you. Think input before output." You can tailor what you ask and what you say to what you're hearing. It's a conversation, not a pitch.
Connect your message to what's most important. It is appropriate to prepare brief message blocks in advance that can be used at the right times. These should connect what your sales team says to customers' challenges and to the outcomes your company makes possible. These message blocks are highly effective in marketing communications, too.
To make sure that prospects are not missing the biggest value your firm can provide:
Define your distinctive problem-solving, value-creating capabilities
Develop a positioning and clear, strong value messaging that connects your capabilities to the outcomes your customers and prospects want
Develop a framework for estimating what your solutions can be worth to your target customers, and quantify the estimated financial value of your solutions
Prepare your marketing and selling teams to communicate how you help customers achieve these outcomes
Build their skills in conducting dialogues with decision-makers that effectively convey the value that you bring
In these ways, you can demonstrate your value so that you don't have to lower your prices to land or retain customers.
If your business needs to reach customers with messaging that speaks to what they most want to know, schedule a quick call with Bob Sherlock.